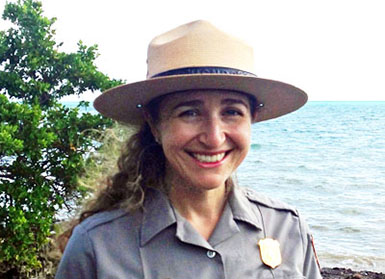 News Release Date:
February 18, 2014
Contact: Bill Reynolds, (404) 507-5612
ATLANTA -- Southeast Regional Director Stan Austin has announced that Sula Jacobs has been selected as the next superintendent of Cumberland Gap National Historical Park.Jacobs has been serving as Deputy Superintendent of Biscayne National Park since February 2011.She will assume her new duties at the end of February.
"We are delighted to have Sula move to Cumberland Gap to take over as superintendent," Austin said."She is an energetic leader with a solid Park Service background who has done a superb job for the last three years as the deputy superintendent at Biscayne.She understands the need to preserve both natural and cultural resources for future generations while at the same time allowing for education and enjoyment by park visitors.We know she will be a great asset to Cumberland Gap and the neighboring communities."
Jacobs is a graduate of Washington and Lee University in Lexington, Va., where she graduated with a bachelor's degree in economics and East Asian studies.In 2005 she achieved a master's degree in public policy from the Goldman School of Public Policy at the University of California, Berkeley.Her master's project involved studying the campgrounds and backcountry camping at Great Smoky Mountains National Park.
After achieving her master's degree, Jacobs began her National Park Service (NPS) career in 2005 as a management analyst in the Office of the Comptroller in Washington, D.C. In that capacity she managed business plan analysis for parks, including financial, operational, and strategic assessment.She also prepared research and documents for Congressional hearings.
In 2006 Jacobs moved to George Washington Memorial Parkway in McLean, Va., where she served as administrative officer until 2011.While there she acted as deputy superintendent.She also served for a while in 2009 as acting superintendent at Castillo de San Marcos and Fort Matanzas National Monuments in St. Augustine, Fla.
As deputy superintendent of Biscayne National Park, Jacobs oversaw daily operations, supervised about 50 employees and managed a budget of more than $4 million.She was the acting superintendent for four months in 2012 and 2013.Among her other duties at Biscayne, she also represented the park with many partners including the South Florida National Parks Trust and the Everglades Association.

During her career Jacobs has taken on many additional responsibilities including membership on important national committees and teams such as the committee on the NPS Hurricane Group and is currently on the NPS Centennial Working Group, as well as being a participant in the National Parks Institute.
"I am thrilled at this amazing opportunity to join Cumberland Gap National Historical Park's talented and dedicated team and to work with the park's partners," Jacobs said."As the first gateway to the West, the park has a richly important history coupled with exquisite natural beauty.I look forward to continuing to preserve and protect this National Park Service gem."
Jacobs looks forward to hiking and paddling in the Appalachian Mountains again, as well as volunteering.
Cumberland Gap National Historical Park encompasses more than 20,000 acres of history and natural beauty in the states of Kentucky, Tennessee and Virginia.In the late 1700s and early 1800s it served as a gateway to the west for hundreds of thousands of pioneers.It receives more than 800,000 visitors a year.