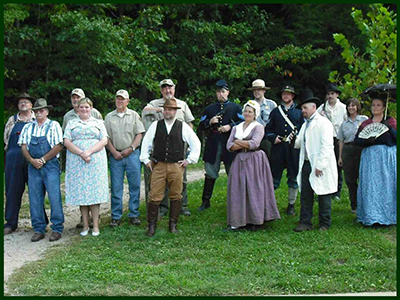 News Release Date:
July 26, 2013
Contact: Carol Borneman, (606) 248-2817, extension 1070
Staff at Cumberland Gap National Historical Park eagerly heralds the third annual "Within the Shadows of Cumberland Gap Heritage Walk" being held Saturday, August 3rd, 2013.  Each year, some of the lesser-known people in the Gap's history - from geologists to politicians, from scalp buyers to ancestors of presidents - are showcased. This year, visitors will encounter seven short plays along the Wilderness Road that may surprise even those who think they know all about the Cumberland Gap!
"We tend to think of people such as Daniel Boone and Civil War generals at the Cumberland Gap, but there were thousands of other people who traveled through this historic passageway" explained park historian Martha Wiley. "This is our chance to share with park visitors and neighbors some of these 'hidden history' stories. It's a lot of fun for park staff and volunteers to be able to portray some of these riveting characters from our past!"
Rangers will be leading three hikes along the Wilderness Road with the first one beginning at 6:00 p.m., the next at6:30, and the final at7:00 p.m. Each hike will take approximately 90 minutes traversing 1.5 miles on a dirt trail with hilly sections; good walking shoes are required. This popular event is free, but each tour is limited to 30 people, so reservations are recommended by calling the park visitor center at (606) 246-1075.
Visitors should be at the Daniel Boone Visitor Information Center above the town of Cumberland Gap, Tennessee 30 minutes prior to the scheduled tour time, as shuttles will take visitors to the starting point at the Thomas Walker parking area. In case of heavy rain the event will be cancelled.
This program is being co-hosted by the Friends of Cumberland Gap and park partner Eastern National. For more information about Cumberland Gap National Historical Park, please call (606) 248-2817 or visit www.nps.gov/cuga.  For more information on the Friends of Cumberland Gap National Historical Park and how to become involved, please visit www.friendsofcumberlandgap.org or find them on Facebook at www.facebook.com/friendsofcumberlandgap.  Learn how Eastern National supports the interpretive and educational mission of the National Park Service by visiting www.easternnational.org.