SHOOTING STAR SPECTACULAR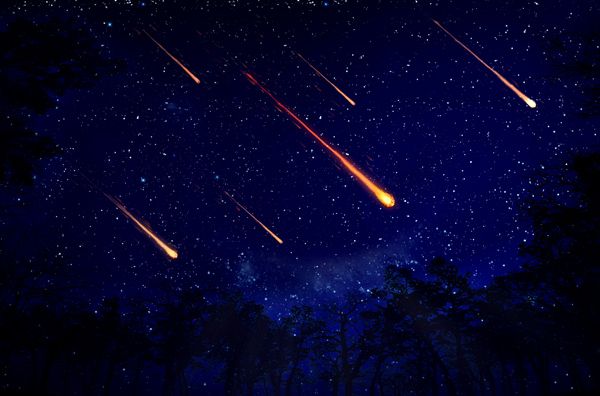 News Release Date:
August 9, 2016
Contact: Carol Borneman, 606-246-1070
As darkness falls in the southern mountains, the historic Hensley Settlement in Cumberland Gap National Historical Park becomes the stage for a shooting star spectacular!Its remote location high upon Brush Mountain provides an incredible opportunity to view the night sky and the famous Perseid meteor shower.
Visible each year beginning in mid-July, the Perseid meteor shower has been observed for almost 200 years.The shower, which consists of dust and debris associated with a comet called Swift-Tuttle, appears as streaks of light in the evening sky."On clear evenings, almost 90 streaks per hour can be seen," explains Park Ranger Keith Bowling."The dark skies found up on Brush Mountain provide the perfect environment to view this spectacular show.It is a sight to behold."
Visitors are invited to drive their personal vehicles up to Hensley Settlement via the Shillalah Creek Road on Saturday, August 13 for this magical nighttime spectacle.There will be a $10.00 per vehicle charge which must be paid in advance at the park visitor center which is open daily from 8:00 a.m. to 5:00 p.m.Visitors will be required to show their receipt as they access the mountain road.Vehicles must be front or four wheel drive.No passengers are allowed to ride in the beds of pick-up trucks.No ATVs are permitted.Up travel only on the Shillalah Creek Road will be from 5:30 p.m. to 7:00 p.m.The road will be closed from 7:00 p.m. to 9:00 p.m.Down travel only will be permitted from 9:00 p.m. to 11:00 p.m.
From the park visitor center, visitors should travel the Pinnacle Road to Co Rd 988 (Sugar Run).Travel on Co Rd 988 for 3 miles.Visitors should then proceed east on Co Rd 217 approximately 4 miles to the Shillalah Creek Road.
All are encouraged to first stroll amongst and in the settlement's historic buildings as the early evening light casts a peach and mauve glow upon the landscape and then, as darkness falls, gaze upon the night sky.As several hours will be spent upon the mountain top, rangers suggest that visitors bring telescopes, binoculars, blankets or chairs, warm clothing, and a picnic dinner.
In case of rain, the program will be cancelled.For more information on this or other ranger-guided programs, please call the park visitor center at (606) 248-2817, extension 1075. 
Last updated: August 9, 2016