Date:
March 6, 2010
Contact:
Carol Borneman
, (606) 248-2817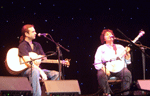 Scots and Ulster Scots have emigrated in such numbers that no other European Nation has ever lost such a high proportion of its people.  In the early days these were men and women who left behind them a homeland rich in the oral tradition of song and ballad singing, an inheritance which they carried with them wherever they went.  Their legacy is apparent to this day.  Join musician Sara Grey and her son Kieron Means at Cumberland Gap National Historical Park on Sunday, March 14th as they perform many of these songs and share with the audience stories of how these tunes influenced the music of Appalachia.  The duo's repertoire will include songs and ballads whose tunes and words have remained unchanged throughout the years to compositions which have radically changed but still remain recognizable.
Sara Grey first heard mountain music as a youngster growing up in North Carolina; her love for the old time banjo music and songs developed from this experience. She has carried this interest into her adult life studying folklore and collecting and performing music from the various areas in which she has lived.  During many of her songs, Sara accompanies herself by picking a five string banjo and, when playing tunes, it is obvious why she is regarded as one of the foremost exponents of the old-time style.
Though born in the United States, Kieron Means grew up in Britain, gaining a great love of the music of both traditions as well as the contemporary scene. He has become a performer of traditional songs from the United States and from the United Kingdom has written many of the contemporary songs which he sings.
The free concert will be held in the visitor center auditorium at 2 p.m.  This renowned mother/son team will expect all to enthusiastically chime in on choruses and refrains. 
For information on this and other park programs, please call (606) 248-2817, extension 1075.