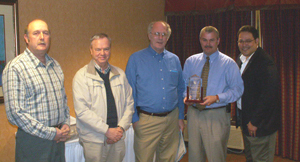 News Release Date:
March 27, 2009
Contact: Carol Borneman, (606) 248-2817
Cumberland Gap National Historical Park is the recipient of the National Park Service's Design Project Achievement Award for the 2008 renovation of its amphitheater located at the Wilderness Road Campground. The renovation included a complete facelift to the amphitheater building, new seating, inclusion of state of the art sound and lighting systems, installation of a waterline to support an accessible water fountain, and the pouring of new concrete for decking and walkways. Though the facility met accessibility codes beforehand, wheelchair positions were limited to only a few spaces and located on the last row of the viewing area. Correcting this last insufficiency was of highest priority for the park as staff planned, designed and constructed improved accessibility for all park visitors. The result of the park effort not only tripled viewing area space for visitors in wheelchairs, but now allows front row viewing for visitors in wheelchairs.
Superintendent Mark Woods explains that the campground amphitheater renovation is a boon to park visitors. "The amphitheater is used extensively during the summer months as park rangers provide programs on the park's incredible array of resources. The amphitheater is also the perfect venue for the numerous music programs offered by the park. Gorgeous hemlocks and pines provide the perfect backdrop for the amphitheater; combine that with a campfire which is usually present at every amphitheater program and visitors return home with many fond memories. Superintendent Woods also reminds visitors that the amphitheater can be reserved for weddings."
Chief of Maintenance Bill Brumbach further elaborates that while design plans were acquired via contract, selection and procurement of all project materials, planning, scheduling and all construction work was provided by park personnel. "I tip my hat to the maintenance staff! As each step was undertaken, staff always kept park visitors in mind. Work was also of top notch quality. Maintenance personnel are very proud of this project; their trademark of excellence can be seen in every aspect of this access project."
For information on this project and the accessibility award, please contact Bill Brumbach at 606-246-1100. For information on summer programs being offered at the amphitheater, please call 606-248-2817, extension 1075 or visit the park web site at www.nps.gov/cuga.