Recognizing Fifty Years of the Job Corps at Cumberland Gap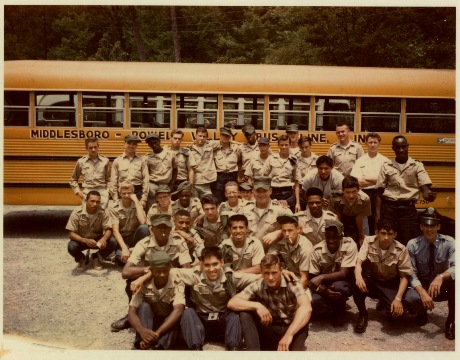 News Release Date:
July 13, 2015
Contact: Martha Wiley, (606) 246-1051
Park Program to Showcase Corpsmen' Contributions
Visitors to Cumberland Gap National Historical Park (NHP) often remark upon the attractiveness of the park's developed areas, including the beautifully landscaped picnic grounds and trails. What the majority of visitors don't know is that many of their favorite places, including Sugar Run, Fort McCook, and above all, Hensley Settlement, are here through the efforts of the Job Corps.
Established as part of President Lyndon B. Johnson's War on Poverty program in 1964, the Job Corps, in the mold of the Civilian Conservation Corps of the 1930s, gave underprivileged young men an opportunity to work and get an education while serving their country. Cumberland Gap NHP was selected as the site of a Job Corps Center in 1964, but it wasn't until early summer 1965 that the first Corpsmen came here to work. Over the four years until it closed in 1969, the center was home to hundreds of young men and their teachers and staff.
To commemorate that anniversary, and to at long last recognize the many contributions of these young men, the park is hosting "Unsung Heroes: 50 Years of the Job Corps at Cumberland Gap," on Saturday, July 18th, at 2:00 p.m.This hour-long program will feature a presentation by Dr. Angela Sirna on the contributions of the Job Corps here at the park. While pursuing her PhD at Middle Tennessee State University in Murfreesboro, Dr. Sirna wrote her dissertation about Cumberland Gap NHP, with one focus being the history of the Job Corps. The accolades of Park Historian Martha Wiley for the Job Corps are loud and clear: "The work the Job Corps did here at Cumberland Gap is easy to take for granted, as daily and all around us, we enjoy the fruits of their labor. It's time to formally recognize these young men and the staff who mentored them, and take the opportunity to acknowledge the substantial contributions they made to the beauty that is Cumberland Gap National Historical Park."
There will also be an exhibit in the upper lobby of the visitor center featuring historic photos of the Cumberland Gap NHP Job Corps Center, the corpsmen and staff, and many of the projects they worked on over the years. The exhibit will be on display through the end of August.
After the free program, there will be a dedication of a plaque recognizing the contributions of the Gap Job Corps Center. Light refreshments will also be served.
For more information please call the park visitor center at (606) 248-2817.
Last updated: July 13, 2015