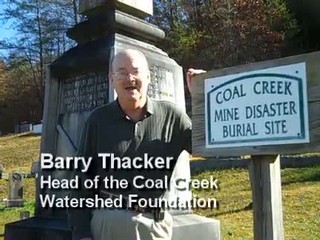 News Release Date:
May 8, 2012
Contact: visitor center, (606) 248-2817
Hidden History Lecture Series Continues at Cumberland Gap National Historical Park
Coal mining is an important part of this area's heritage, and on Saturday, May 2, visitors can learn more about its rich history during a program at Cumberland Gap National Historical Park. As part of the park's Hidden History series, engineer Barry Thacker will give a program on the volatile mining history of Coal Creek, Tennessee (now Lake City). He will also explore the rich legacy of Welsh miners in Kentucky.
Thacker is a founder of the Coal Creek Watershed Foundation and has become immersed in the history of coal mining in east Tennessee. He will share the story of the Coal Creek War of 1891-92, during which miners fought the Tennessee Militia to abolish the use of convict miners, as well as the tragic history of the mining disasters at Fraterville in 1902 and Cross Mountain in 1911. Thacker has also become a local expert in the legacy of the Welsh miners of Tennessee and Kentucky, and will share some of the fascinating stories of their culture and lasting influence in the region.
The program, which is the second in the park's Hidden History Lecture Series, begins at 2 pm at the visitor center and is free. For more information on park programs, please call 606-248-2817.