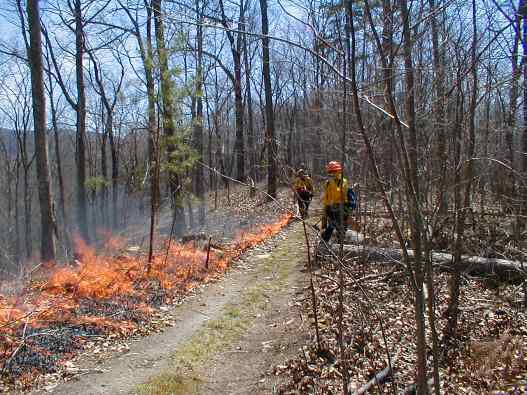 News Release Date:
March 16, 2015
Contact: Gene Wesloh, (606) 246-1054
Fire On the Mountain:
Cumberland Gap National Historical Park Plans for Prescribed Fire
During the next three weeks, weather permitting, Cumberland Gap National Historical Park will be conducting a prescribed burn in the "Hoot Owl Hollow."This 105 acre burn unit, in mixed hardwood and conifer forest, is located along the park boundary on the north side of the community of Arthur, TN.
"This area was last burned in the spring of 2010 as part of the park's overall Fire Management Strategy to help protect park resources and park neighbors from unplanned wildfires" explains Cumberland Gap's Fire Module Assistant Supervisor and veteran firefighter Sasha Ernst.Ernst further shares that "Prescribed burns are small to moderate sized fires applied under specially controlled and monitored conditions to help avoid out of control fires during the peak fire season.They are intended to reduce the amount of fuel (dead and downed timber) so that any wildfire can be more easily controlled before threatening nearby homes and buildings.In addition, these fires help maintain the health of the forest by clearing the understory and returning nutrients to the soil.Most of the native species are adapted to this type of burn, but would not survive a catastrophic fire that could result after years of dead wood collecting on the forest floor."
Done properly, prescribed burns reduce the limbs and leaf litter on the ground that are the primary fuels for a wildfire.At the same time, these low-grade fires kill some shrubs and other tree species, leaving an open understory underneath a mixed hardwood forest.This was the type of forest that Thomas Walker and Daniel Boone saw when they traveled through the area, and the type of forest the park tries to maintain.
Before igniting the fire the park must wait for the right weather which influences the size of the fire, how hot it will burn, the direction the smoke will blow, the effect upon endangered species (like the Indiana Brown Bat) that may roost in the trees, and the quality of the experience for visitors and area residents traveling through or near the park.
Residents of Middlesboro may observe smoke rising over the Cumberland Ridge to the south. Passers-by may notice smoke from the prescribed burn rising as they drive on Hwy 63 south of the park.Cumberland Gap's Chief Ranger Gene Wesloh cautions motorists who are traveling on roadways between the communities of Tiprell and Arthur to be alert to firefighters and fire apparatus in the area, but Wesloh expects no disruptions to traffic flow.
To learn more about fire in the national parks, go to: