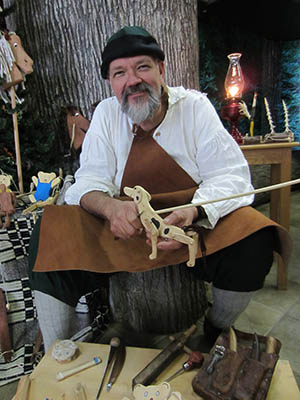 News Release Date:
November 29, 2013
Contact: Carol Borneman
In the ever-hastening holiday hustle across the nation, shopping carts are filled with electronic games, gadgets, and gallantry, while streams of shoppers rush about, buying with a vengeance. But in the smoky, snow covered mountains of Appalachia the memories of Christmas past still linger, reminding us of what this season was like long ago! Cumberland Gap National Historical Park will be the scene of a traditional holiday re-awakening on December 7th, 2013 with the arrival of the last of the old-time toy makers. No, not Santa Claus, but a real old time toy maker who carries with him the spirit of things of the past - heartfelt presents made by hand – simple, but full of love. Gifts such as these carry with them tradition, family history, and a connection with the special spirit upon which the Christmas season should be founded.
The old time toy maker, Mr. Joey Beason, has patient hands which create something from nothing, and has a story to tell about the true spirit of Christmas! He remembers the days when people had to scrimp and save scraps which today would be thrown away. These tidbits were fashioned into something so special that they became family heirlooms and would never be tossed away.
Seeing the love that the toy maker puts into his toys reminds me of my very favorite Christmas present when I was young says Park Ranger Pam Eddy. "My brother spent a whole year gathering things from the forest for my present of bird feathers, squirrel tails from his hunts for food, and other treasures he had found in nature.  This cost him nothing but his time which was worth more to me than anything money could buy. It was evident that he wanted me to know I was loved… and that is the real spirit of Christmas!"
Old and young alike are invited to join in this special morning at the old toy workshop and enjoy gingerbread, sugar cookies, egg-nog and hot chocolate. The toy maker will share with all a story that teaches of the true Christmas spirit of love, kindness and giving. Join the toy maker in making a craft which you can share with loved ones on Christmas morning. Ornaments, made by the toy maker himself, will also be available for purchase.
This free program isSaturdaymorning at10:00 a.m.on December 7th, 2013. The toy workshop is inside the national park visitor center, located on Hwy 25E, just south of Middlesboro, KY.  This program is being co-hosted by the Friends of Cumberland Gap and park partner Eastern National.  For more information about Cumberland Gap National Historical Park, please call (606) 248-2817 or visit www.nps.gov/cuga. For moreinformation on the Friends of Cumberland Gap National Historical Park and how to become involved, please visit www.friendsofcumberlandgap.org or find them on Facebook at www.facebook.com/friendsofcumberlandgap. Eastern National supports the interpretive and educational mission of the National Park Service; learn more by visiting www.easternnational.org.