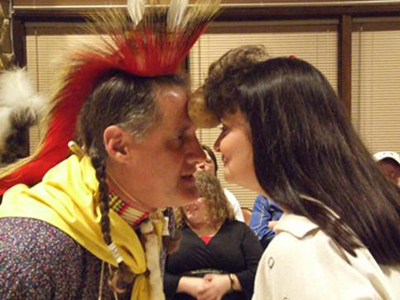 News Release Date:
November 12, 2009
Contact: Carol Borneman, (606) 248-2817
Mark and Sherry Finchum of Indian Creek Productions will return to Cumberland Gap National Historical Park on Saturday, November 21, to help commemorate National American Indian Heritage Month. Last year, they entertained visitors with their retelling of traditional stories, and this year they will be sharing another tradition, the powwow. "Entering the Sacred Circle" will give visitors an opportunity to learn the symbolism and etiquette of the modern powwow through music, artifacts, slides and participation. The presentation will begin at 2 p.m. in the visitor center auditorium - come prepared to dance as you get a glimpse into this ancient Indian tradition.
The celebration continues that evening when at 7 p.m. the park offers an owl prowl.   Owls are powerful symbols for many Native American tribes. Some believe the owl to be warm, natural, with an easy-going nature and friend to the world.  Others believe that the bearer of the owl totem is notorious for engaging in life at full speed, and whole-hearted, loves adventure. Immerse yourself in these stories through a program offered inside the visitor center by Park Naturalist Scott Teodorski; afterwards, join Scott for a short walk into the woods listening to the hoots, shrieks and wails of these incredible nighttime forest denizens. And a ranger reminder: "Dress warmly!"
For additional information, please call the park visitor center at (606) 248-2817, extension 1075.