Date:
May 25, 2010
Contact:
Carol Borneman, (606) 248-2817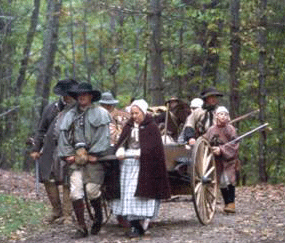 Some say time travel isn't possible, but during Memorial Day weekend visitors will have the chance to do just that at Cumberland Gap National Historical Park. The Wilderness Road that travels through the Cumberland Gap has seen hundreds of years of history and been witness to tales of heartbreak and joy, loss and discovery. Visitors can discover these stories during the Friday, May 28th event, "Within the Shadows of Cumberland Gap Heritage Walk," to begin at the Daniel Boone parking area in Virginia at 6:30 p.m.
During the one-mile long walk through the Gap, visitors will meet several "ghosts" from the road's past. Hear the tales of a Cherokee warrior and a long-hunter from 1700 and 1780. Mary Cloud Turner, wife of Revolutionary War soldier John Turner, will be there, sharing her experiences as a resident along the Road in the early 1800s. Meet Matilda, a slave from Newlee's Iron Furnace down in the town of Cumberland Gap, who is looking for an escape route along the Road in the 1850s. Soon after Matilda fades away, encounter Confederate soldiers of the Civil War during their occupation of the Gap in 1861. Jump forward in time again to the 1920s and meet an English gentleman and his roadster, out for a ride on the newly paved Dixie Highway.  Finish your tour with a park ranger, not from 2010 but from 1960, as he welcomes all to this brand-new gem of the National Park Service.
The one-mile walk through the Gap along the Wilderness Road is moderate with one uphill section and some loose gravel. Visitors should wear sturdy walking shoes. A shuttle will be provided to take visitors back to the Daniel Boone parking area after the event, which is expected to last approximately two hours.
On Saturday morning, May 29th, at 10:00 a.m. outside the visitor center, staff and visitors will be guided by Henry Wadsworth Longfellow's "They are dead; but they live in each Patriot's breast, And their names are engraven on honor's bright crest" as homage is paid to veterans who throughout the ages have fought for America's freedom.   The ceremony will last approximately one hour. 
On Monday, May 31st, all fifty state flags will be flown proudly on the visitor center grounds. These flags were presented to the park by the citizens of Middlesboro, KY in a special parade of youth during the park's July 4th, 1959 dedication.
For information on Memorial Day events and other ranger-guided activities, call (606) 248-2817, extension 1075.