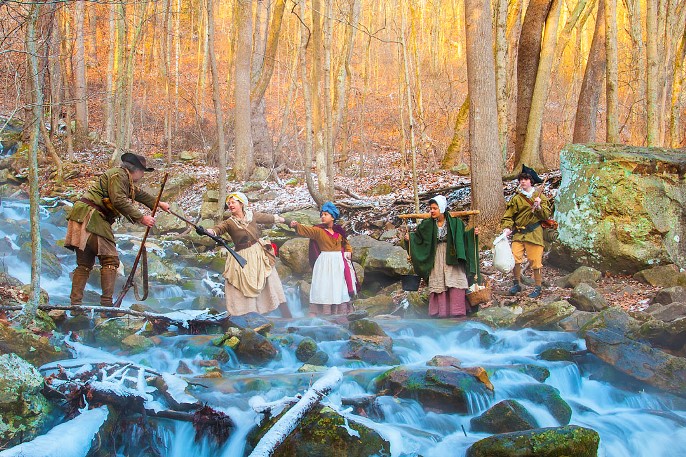 News Release Date:
April 1, 2016
Contact: Carol Borneman, (606) 246-1075
An American Memoir Being Hosted at
Cumberland Gap National Historical Park
Marquee Event to Include Re-enactors, 100th Birthday Extravaganza, and Cumberland 
Gap Quarter Launch
 Hundreds of pioneer re-enactors, a large cadre of National Park Service (NPS) rangers, representatives from the U.S. Mint and an expected 10,000 visitors are expected to converge on the grounds of Cumberland Gap National Historical Park April 9th – 11th for An American Memoir: From the Hearts of Our Ancestors...Into the Hands of Our Children.
 Park Superintendent Sula Jacobs jubilantly exclaims, "This is the 100th birthday of the National Park Service! There's no better way to connect with and create the next generation of park visitors, supporters, and advocates than by hosting a fun filled, educational event into which visitors will be able to totally immerse themselves."  
 "We're bringing in a cool array of NPS rangers and staff who help to safeguard America's national park units, which number more than 400," explains Cumberland Gap's Biological Technician Amy Settles. "I was tasked in choosing a diversity of NPS employees who will really help illuminate the breadth of expertise and variety of employees found throughout the system." The listing includes a mountain climbing ranger from Yosemite National Park, river rangers from Obed Wild and Scenic River, musician rangers from New Orleans Jazz National Historical Park, an architectural preservationist from the National Mall and Memorial Parks, a Civil War re-enactor from Abraham Lincoln Birthplace National Historical Park, and, from the NPS Submerged Resources Center, archaeologists who also do double duty as scuba divers. A photo exhibit featuring many of the national parks will also be on display in the park visitor center. 
 As this array of NPS employees share stories from their parks, in a nearby venue, members of the Cherokee Nation will share their stories of pre-contact and the period shortly thereafter when European pioneers began moving westward. Pioneer re-enactors, to include park staff and volunteers from Ozark Scenic Riverways in Missouri and George Rogers Clark National Historical Park in Indiana, will set the stage for illuminating those values – hard work, patriotism, loyalty, freedom, and others – upon which America was built. At center will be George Washington, portrayed by living biographer Carl Closs of Kennett Square, PA. Vendors will also be on hand for visitors and re-enactors to find items including clothing, powder horns and other goods appropriate for 1750 to 1840.  
 The event's grand finale occurs on Monday, April 11th at 11:00 a.m. when the U.S. Mint launches the America the Beautiful quarter for Kentucky, honoring Cumberland Gap. Guest speakers will include NPS Deputy Director Peggy O'Dell. "The National Park Service's collaboration with the United States Mint on the America the Beautiful Quarters® Program has showcased some of our nation's national park treasures, and this latest coin featuring Cumberland Gap National Historical Park adds a beautiful new scene to the collection.  Especially during the National Park Service's Centennial year, when we are encouraging all Americans to discover the incredible diversity of our national park sites, these quarters are a fun way to inspire people to celebrate with us and Find Your Park."  
 On stage with O'Dell will be Congressman Hal Rogers, NPS Director for the Southeast Region Stan Austin, and U.S. Mint at Philadelphia Plant Manager Marc Landry.
 Middlesboro (KY) Elementary fourth graders Hattie Landen and Makaya Patterson will serve as masters of ceremony. A memorable moment will include an en masse swearing in of more than 2,200 Junior Rangers. All children in attendance 18 years old and younger will receive a Cumberland Gap quarter free from the U.S. Mint.  A sign language interpreter will be signing the official quarter launch ceremony, making it accessible for those who are hearing impaired. Home Federal Bank in Middlesboro, Kentucky, will be on-site and will handle the coin exchange following the launch ceremony, at which cash can be exchanged for uncirculated $10 rolls of Cumberland Gap quarters.  
 "Our motto for this event is 'It takes a village,'" reflects Superintendent Jacobs. "Staff from Wilderness Road State Park in Virginia and Pine Mountain State Resort Park in Pineville, KY are heavily involved in this upcoming weekend. Wilderness Road State Park staff is providing pioneer re-enactors and staff to assist with parking and other logistics. Pine Mountain State Resort Park is offering its Frontier Buffet dinner on Saturday, April 9th for visitors to attend after their day at the national park. A coin forum is scheduled for Sunday, April 10th from 3:00 p.m. to 4:00 p.m. at Pine Mountain's C.V. Whitney Convention Center. The Friends of Cumberland Gap National Historical Park and park partner Eastern National have provided substantial financial assistance. Bell County Tourism has gone the extra mile in getting the word out with billboards, radio and TV advertisements, and event brochures, and has secured rooms for several of the re-enactors."  
 The event takes place on the national park visitor center grounds Saturday and Sunday, April 9th and 10th, from 10:00 a.m. to 5:00 p.m., and Monday, April 11th, from 9:00 a.m. to 4:00 p.m. Food will be available for purchase. On Saturday and Sunday, parking at the visitor center will be first come. On Monday, April 11th, visitor center parking will be reserved for those holding accessibility hang cards or license plates. All other parking will be at the overflow parking area, shortly after the Bartlett Park Road junction, located ½ mile past the visitor center, and at the Thomas Walker parking area, located at the intersection of the Pinnacle Road and Co Rd 988 (Sugar Run Road). Parking personnel will direct visitors to parking areas. Van shuttles will be provided to the visitor center and back.   
 Additional information on the April weekend and other park programs can be obtained by calling the park visitor center at 606-246-1075 or by visiting the park's web site at www.nps.gov/cuga. Information on the quarter launch ceremony can also be found at  www.usmint.gov/events,  www.facebook.com/unitedstatesmint, and www.twitter.com/usmint.