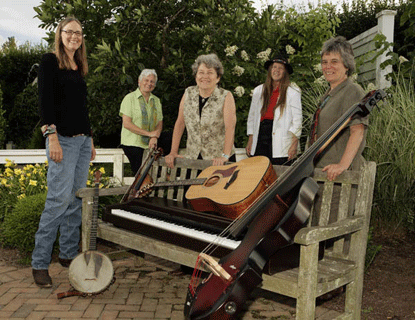 News Release Date:
June 19, 2009
Contact: Carol Borneman, (606) 248-2817
Captivating words, delightful music – put the two together and with Cumberland Gap National Historical Park as the backdrop, one has the perfect Saturday combo. 
On Saturday, June 27th, at 2 p.m. at the park visitor center, storyteller and author Joe Tennis will fascinate visitors as he shares with them his books featuring Cumberland Gap. "Beach to Bluegrass: Places to Brake on Virginia's Longest Road" (The Overmountain Press, $17.95) features 58 tales along U.S. Hwy 58, a 500-mile journey linking the sandy shores of Virginia Beach to the Cumberland Gap. Three chapters of this book include intriguing anecdotes about Lee County, VA. 
Along the way, Tennis's book - illustrated with more than 100 photos, including three showcasing Cumberland Gap - makes stops at the birthplace of R.J. Reynolds; Fairy Stone State Park; Mabry Millon on the Blue Ridge Parkway; Danville's "Wreck of the Old '97" and The Crooked Road: Virginia's Heritage Music Trail.
"This book is a trail of tales," Tennis said, "Some are funny. Some are tragic. And nearly all connect to the next, as you roll across Virginia from the first landing of the Jamestown settlers to the Gateway to the West at Cumberland Gap." Ghost tales in the book come from Abingdon, South Boston, Boydton and Virginia Beach. Musical stories originate from Galax's Old Fiddlers Convention and Johnny Cash performing his final concerts near Hiltons, Va., in 2003.  More chapters stem from the Great Dismal Swamp, Roanoke River, Virginia Creeper Trail, the origin of Brunswick Stew and the birthplace of Mr. Peanut.
Tennis, 40, is a feature writer for the Bristol Herald Courier. He has also written for Blue Ridge Country, Appalachian Voice and Virginia Living. Tennis will not only be signing his Beach to Bluegrass before and after his program, but will also be signing and speaking on his other books, including "Southwest Virginia Crossroads: An Almanac of Place Names and Places to See" (The Overmountain Press, $29.95), an illustrated history book featuring chapters and original photos of Cumberland Gap plus Lee, Wise, Dickenson, Washington and Montgomery counties. Visitors can receive an early introduction to Tennis through his website atwww.beachtobluegrass.com. 
As Tennis' books from the afternoon are temporarily laid aside, music will begin to flow at 8 p.m. as Reel World String Band steps upon the stage at the Wilderness Road Campground amphitheater. Celebrating its 30th year of performing, Reel World has been described as "the essence of Appalachian grit." With Sue Massek on banjo, Bev Futrell on guitar and harmonica, Karen Jones on fiddle, Elsie Melrood on keyboard, and Sharon Ruble on bass, the group takes its audience on a journey of southern culture, exploring environmental concerns in songs such as Last Chance Lullaby and celebrating the new roles of women as expressed in Little Omie Done Got Wise and James Alley Blues.  The songs of the group certainly "hit home" for Reel World dedicated Evergreen to the International Garment Workers of Olive Hill, Kentucky while Cranks Creek extols the rising up of a community in Harlan County, Kentucky, against the floods of destruction caused by strip mining and mountain top removal. The group's repertoire also includes traditional gems like Sally Ann and Banjo Pickin' Girl. CD's for which the group is known include "The Coast is Clear," "Appalachian Wind," "Whatnots," and "Mountain Song Reflections," and "Live Music." CD's can be purchased for $16.00 through Reel World, P.O. Box 1972, Lexington, KY 40588. 
Reel World String Band has performed in Italy, at almost every major folk festival in the United States and Canada and the Lincoln Center in New York City. A New York Times review trumpeted "The Reel World String Band is ideal for dancing and just generally letting loose the spirit." Additional information on the group can be accessed at www.reelworldstringband.com.        
Park Ranger Matthew Graham extends an invitation to all to this "free Saturday combo at Cumberland Gap. Author Joe Tennis and Reel World String Band truly believe in Appalachia, its rich history and the gifts which this area has to offer."
Graham also reminds visitors that the Wilderness Road Campground is located in Virginia, two miles to the east of the Hwy 25E and Hwy 58 intersection. The accessible amphitheater is located at the end of loop C in the campground where parking is available. In the event of rain, the evening concert will be held in the visitor center auditorium. For additional information on these and other park programs, call 606-248-2817, extension 1075 or the park's web site at www.nps.gov/cuga.