Date:
July 8, 2008
Contact:
Butch Davis, (606) 248-2817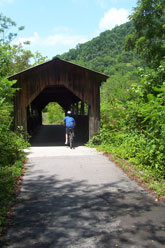 Calling all Junior Rangers, parents, and those wanting to get out and enjoy the outdoors with a short "stretch-your-legs tune up" bike ride!  Parents, want to get those kids off the couch and have them experiencing some of our local natural treasures?  This Saturday, July 12th, at 10 a.m. Cumberland Gap National Historical Park will host a bike ride from the Iron Furnace parking area in the town of Cumberland Gap, over the covered bridge and through the old "little tunnel" to Harrogate Park for a special program.
"This short bike ride will be the second of three that we're having this summer for our Junior Ranger Corps" said Ranger Butch Davis.  "What better way to start off a summer day than a bike ride!  Everyone's invited---all of our Junior Rangers, friends, and family members.  We'll ride out to the Harrogate Park for a field presentation and games on local tree identification, and ride back, returning to the Iron Furnace around 12:15 p.m.  Like our other Junior Ranger events, there's no charge---you just need a bike, a helmet and a desire for adventure" said Davis.
For additional information on this and other park programs, contact the visitor center at (606) 248-2817, extension 1075.