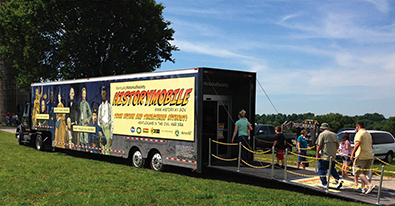 News Release Date:
June 19, 2014
Contact: visitor center, (606)248-2817, extension 1075
HistoryMobile, Appalachian Concert and Shaker Box Artist to Complement Park's Many Offerings  
With its rich mosaic of history, impressive scenery, breath taking overlooks, beautifully decorated caves, and meandering trails, a visit to Cumberland Gap National Historical Park is nothing less than spectacular. But over the July 4thweekend, include the Kentucky Civil War HistoryMobile, a concert by Common Strings and demonstrations by artist Jeff Neil and a park visit catapults over the top!
Park Ranger Sharon Griffin excitedly shares these three unique additions to an already filled to the brim park program schedule. "A definite highlight of the weekend will be the Kentucky Historical Society's HistoryMobile,a mobile museum that has taken Kentucky history exhibits to at least one million visitors since 1973. The current exhibit is 'Torn Within and Threatened Without: Kentuckians in the Civil War Era.' Visitors will be able to meet eight Kentuckians ranging from the famous to the everyday citizen! Through personal recollections, primary sources, authentic artifacts and touch-screen activities, history buffs, Civil War enthusiasts and others will be able to learn critical thinking strategies and explore the difficult decisions Kentuckians faced during the Civil War. Each story highlights the importance of individual choice as a major factor in shaping Kentucky history."
   HistoryMobile characters include:
Henry Clay and John J. Crittenden, Kentucky politicians who try to compromise and avoid war over slavery.

Ben Buckner, a slave-owning Union officer who fights for the Union but feels betrayed by President Abraham Lincoln, and Buckner's own slave, Jim.

Henry Lane Stone, a young Kentuckian who is trying to decide which army to join.

Elijah Marrs, a slave who is choosing whether to join the Union Army.

Ellen Wallace, a slave-owning woman trying to adjust to a changing world.

John Marshall Harlan, a Supreme Court Justice ruling on civil rights in the post-war period.
Visitors will be able to explore the HistoryMobile, stationed in the visitor center parking area,on July 4thand 5thfrom10 a.m. to 4 p.m. This free program is made possible by the generosity of the Honorable Order of Kentucky Colonels, the Pilot Corp., the Kentucky Historical Society Foundation, the U.S. Department of Transportation and the Kentucky Transportation Cabinet.
Ranger Griffin encourages visitors to make their way from the HistoryMobile to the park visitor center where they will be able to meet artist Jeff Neil and revel in the beauty of his hand made Shaker boxes. Neil shares his own artistry evolution. "While working full-time as a research engineer, I experimented with various artistic mediums until I found that woodworking brought me the most pleasure. Woodworking allowed me to use my engineering skills and also expanded my interest in fine crafts."   Neil will be showcasing his artwork July 4th, 5thand 6thfrom10 a.m. to 3 p.m. Park partner, Cumberland Crafts of the Southern Highland Craft Guild, is proud to be hosting Neil.
On July 5that 8 p.m. Darron and Vanessa Nichols of "Common Strings" will take to the stage at the Wilderness Road Campground with music that reflects the hardships and pleasures of rural life in the Appalachian Mountains. They will be true to their mantra: "Our music, considered bluegrass, is nothing more than our expression of feelings and emotions of life. We strive to play our music like it should be played, our style, our sound and not just another cover band."
The Wilderness Road Campground is located in Virginia, two miles east of the Hwy 25E and Hwy 58 intersection. Visitors should proceed to the amphitheater, located at the end of loop C where parking is available. In case of rain, the free program will be held at the national park visitor center, located on Hwy 25E, just south of Middlesboro, KY. This program is being co-hosted by the Friends of Cumberland Gap and park partner Eastern National.
As Griffin trumpets these unique offerings, she reminds visitors that Gap Cave and Hensley Settlement tours are also being offered daily. There is a nominal fee for each. Reservations for each of these tours are recommended and can be made by calling the park visitor center at 606-246-1075. 
For more information on the Friends of Cumberland Gap National Historical Park and how to become involved, please visit www.friendsofcumberlandgap.org or find them on Facebook at www.facebook.com/friendsofcumberlandgap.   Learn how Eastern National supports the interpretive and educational mission of the National Park Service by visiting www.easternnational.org. Information on Cumberland Crafts is available at www.craftguild.org or www.facebook.com/cumberlandcrafts.