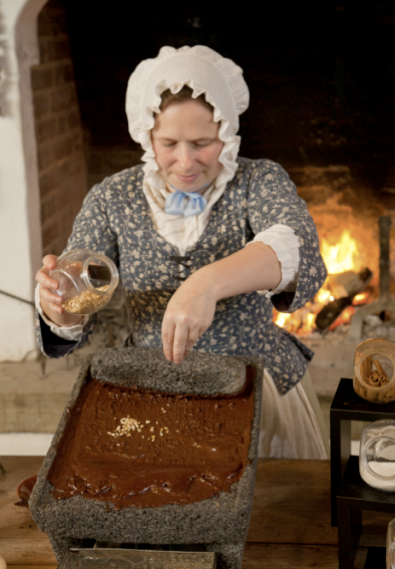 News Release Date:
October 2, 2014
Contact: Carol Borneman, (606) 248-2817. extension 1070
October at Cumberland Gap National Historical Park is a magical time.Mountainsides become an artist's palette of color as the mustard yellows of the hickories, the oranges of the maples, the brick maroons of the sourwoods and the purples of the dogwoods appear.Even poison ivy takes part in this gala event, its leaves showcasing a wonderful medley of reds and yellows.Clear morning skies blend with crisp temperatures. Spice like scents from the flowers of the pearly everlasting and Joe-pye weed dance in the autumn breeze.But come Saturday and Sunday, October 11th and 12th, an additional ingredient will contribute to the fall magic. The sweet smell of chocolate will waft through the air as a team from American Heritage ™Chocolate shares chocolate's journey through one-on-one historical bean-to-beverage demonstrations at the park's visitor center.
Park Ranger Keith Bowling excitedly details that the Mars Chocolate History Ambassadors will be using authentic materials and tools including cocoa pods, cocoa beans and nibs, a hot stone metate, winnowing baskets, chocolate drink pots and molinos.Park visitors will be able to see, touch,
taste and smell the historic chocolate making experience at all free demonstrations which will be conducted on both days from 11 a.m. to 3 p.m.
Ranger Bowling, a chocolate admirer himself, explains that the chocolate making demonstrations are perfect for Cumberland Gap National Historical Park. "Chocolate has been used, and loved, by diverse groups of peoples throughout generations."
"Pioneers extensively used chocolate, while Lewis and Clark even documented in their journals the issuance of chocolate to their men," illuminates Bowling."When Mars Chocolate North America - the makers of American Heritage Chocolate - connected with us and offered to provide these chocolate making demonstrations, we were ecstatic."
As chocolate making demonstrations are being conducted, park visitors will also be able to meet with artisan Bill Capshaw who is being hosted by non-profit park partner Cumberland Crafts.Capshaw's beautifully handmade pottery mugs will provide the perfect complement to Mars American Heritage Chocolate.
About American Heritage Chocolate:
In 2003, Mars undertook an extensive global research initiative to uncover the true history of chocolate.Through a partnership with the University of California at Davis and historic partners such as Colonial Williamsburg, Mount Vernon and Historic Deerfield, Mars led a multi-disciplinary international team
of researchers, culinary chefs, food scientists and historians to compile the most comprehensive and accurate account of chocolate's journey to North America, "Chocolate: History, Culture and Heritage," published by Wiley 2009.
More than 200 archives, libraries, museums and private collections were visited by 115 researchers across the world to provide 56 chapters by 45 authors. Their findings proved that chocolate was surprisingly involved in nearly every aspect of society throughout the ages.
Efforts to publish the book were led by Dr. Howard Shapiro, Global Director of Plant Science and External Research at Mars, Incorporated, and Louis Grivetti, Professor Emeritus, Department of Nutrition, University of California, Davis. This body of research and knowledge enabled Mars Chocolate North America to recreate a historically authentic chocolate product line - American Heritage Chocolate - and recipes which are available to the public throughout the United States and Canada at over 130 fine gift stores at historic sites, including Cumberland Gap National Historical Park through not for profit cooperating association Eastern National. For more information regarding American Heritage Chocolate, please visit www.AmericanHeritageChocolate.com, www.Facebook.com/AmericanHeritageChocolate, on Twitter @Choc_History or NOW on www.Pinterest.com/ChocHistory. The book "Chocolate: History,Culture and Heritage" can be purchased through major booksellers such as Amazon.com.
This program is being co-hosted by the Friends of Cumberland Gap. For more information about Cumberland Gap National Historical Park, please call (606) 248-2817, extension 1075 or visit www.nps.gov/cuga. For more information on the Friends of Cumberland Gap National Historical Park and how to become involved, please visit www.friendsofcumberlandgap.org or find them on Facebook at www.facebook.com/friendsofcumberlandgap. Learn how Eastern National supports the educational mission of the National Park Service by visiting www.easternnational.org. The Cumberland Crafts of the Southern Highland Craft Guild, a non-profit educational organization, preserves and promotes hand craftsmanship in Southern Appalachia. For more information, visit www.craftguild.org.