Date:
October 29, 2013
Contact:
visitor center, (606) 248-2817, extension 1075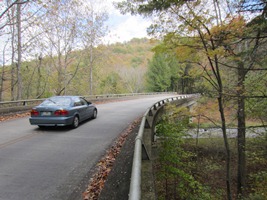 Detours and Slight Traffic Delays to Be Expected 
Cumberland Gap National Historical Park Acting Superintendent John Slaughter has just confirmed that preventative maintenance work on highly used bridges throughout the park is targeted to begin the middle of November, 2013. Slaughter explains that the biggest impacts will consist of closing the overpass to/from US 25 E in Kentucky to the park and vice versa.  "This will cause detours into Middlesboro and Tennessee for those persons driving into and out of the park."
Additionally, resealing the bridge decks on the two bridges on the north (Kentucky) side of the tunnel will require lane closures.  As one week per bridge is expected, lane closures could require two weeks.
The two bridges, as one enters into or exits the tunnel on the south (Tennessee) side, are scheduled to have minor cracks repaired.  Temporary lane closures are expected to last no more than one day on each bridge.
While its surface is resealed during a two week period, the bridge on the Pinnacle Road leading to the park's scenic overlook will have single lane closures with flaggers to permit two-way traffic.
Slaughter explains that as the park works with the selected contractor, a requirement will be to provide a detailed itinerary of when maintenance will be performed for each bridge or overpass and slated detours. "We want to insure that the safety to highway users and park visitors is maximized while the inconvenience to all is minimized! We will be working with local officials and police departments in Middlesboro and Pineville, KY, Cumberland Gap and Tazewell, TN and Lee County, VA; the State Patrol in all three states; and tri-state local media well in advance of impending closures and detours to insure all are aware." 
For additional information on the road work, visitors can call the park visitor center at (606) 246-1075.