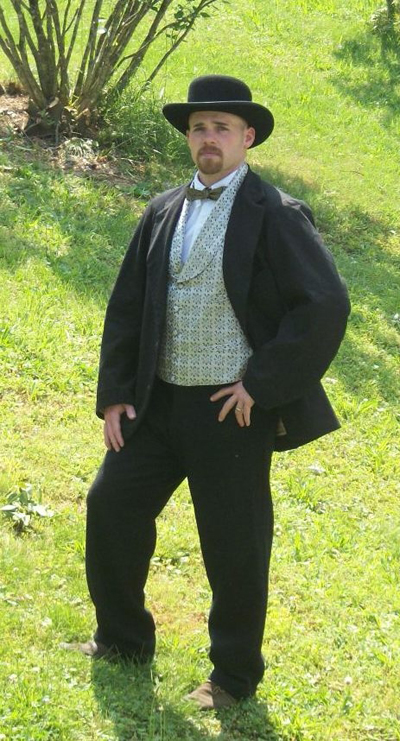 News Release Date:
August 26, 2011
Contact: visitor center, (606) 248-2817
 Local Residents To Help Bring to Life the Rich History of the Gap
Some say that time travel isn't possible, but on Saturday, September 3 rd , visitors will have the chance to do just that at Cumberland Gap National Historical Park. The Wilderness Road that travels through the Cumberland Gap has seen hundreds of years of history and been witness to tales of heartbreak and joy, loss and discovery. Visitors can discover these stories during the "Within the Shadows of Cumberland Gap" Heritage Walk, to begin at the Daniel Boone parking area in Virginia at 7:00 p.m.

During the one-mile long walk through the Gap, visitors will meet several "ghosts" from the road's past. Hear the tales of a Native American warrior and a long-hunter from the 1700's. Mary Cloud Turner, wife of Revolutionary War soldier John Turner, will be there, sharing her experiences as a resident along the road in the early 1800's. Meet miller, blacksmith and merchant John Newlee and slaves Susan and Millie. Newlee, who acquired the Iron Furnace and Mill at Cumberland Gap sometime between 1845 and 1850, was noted as holding 800 acres of land, and other property notes, money, notes, insurance accounts, stocks, land and slaves. Soon after Newlee, Susan and Millie fade away, encounter soldiers from both the North and the South as they relive Confederate Brigadier General John W. Frazer's surrender to Union Colonel John Fitzroy de Courcy in September 1863. Jump forward in time to the early 1900's and meet an exuberant local youth as he excitedly explains how he has heard rumors that a road is to be constructed through the Cumberland Gap. Jump forward in time again to the 1930's and meet an English motorist, out for a ride on the newly paved Dixie Highway. Finish your tour with a park ranger, not from 2011 but from 1960, as he welcomes all to this brand-new gem of the National Park Service.

Park Historian Martha Wiley extends an invitation to all to participate. "Some of the stories being told are loosely built around people whom we knew lived in the area. The Wilderness Road through the Cumberland Gap has borne witness to so many pivotal moments in American history. This program will give a voice to all those millions of people whose lives intersected with this ancient road over time." Wiley also reminds visitors that the one-mile walk through the Gap is moderate with one uphill section and some loose gravel. Visitors should wear sturdy walking shoes. A shuttle will be provided to take visitors back to the Daniel Boone parking area after the walk, which is expected to last approximately an hour and a half.

For information on this and other park programs, please call 606-248-2817, extension 1075.