Date:
December 22, 2009
Contact:
Scott Teodorski
, (606) 248-2817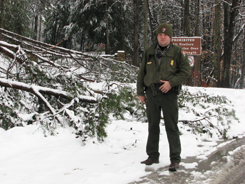 Park rangers and maintenance crews are busy removing debris, clearing roads, and conducting safety checks as a result of heavy snows which fell across the region the evening of December 18. The park received approximately six inches of snow which hampered visibility, covered park roads, and caused numerous trees and branches to fall. Over 100 trees fell in the park, resulting in power outages and impassable roads in some areas. Several visitors were stranded by fallen trees and had to be assisted by rangers. This has resulted in temporarily closures in some areas of the park.
A number of visitor use areas and roads have been temporarily closed. These closures include: Highway 988 going through the park, Sugar Run Picnic Area, Skyland Road leading up to the Pinnacle Overlook, and the Wilderness Road Picnic Area. The park visitor center remains open at this time. Additional closures of trails and facilities are a possibility. "Crews worked throughout the night and the early morning to get to affected areas," says Chief Ranger Dirk Wiley, "We have brought in all available staff and additional resources to assist. Our primary concern at this point is the safety of park visitors and staff. The snow was unusually heavy and wet and there is still a danger of falling trees and debris." Visitors are encouraged to exercise extreme caution while in the park as many trees are still weighted down with snow. 
For more information please call the park visitor center at (606) 248-2817, extension 1075.