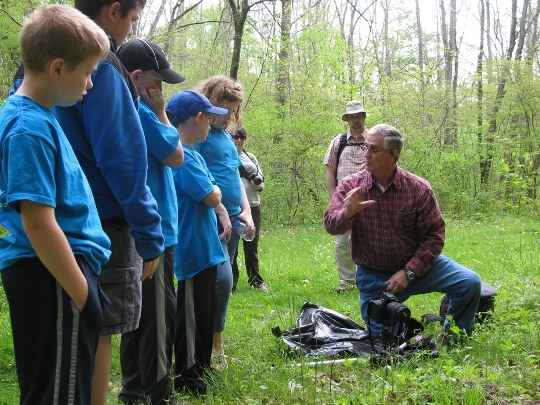 News Release Date:
April 27, 2012
Contact: Superintendent Mark Woods, (606) 248-2817
Local Resident Harold Jerrell Shares His Passion for the National Parks as Newest Board Member of the Friends of Cumberland Gap National Historical Park
 Fog fills the valleys as the morning sun glistens off of the mountains at Cumberland Gap National Historical Park.  Birds are singing, a slight chill is in the air, and seemingly, the rest of the civilized world is sound asleep.  But already bounding through the woods is park volunteer and recent retiree Harold Jerrell, there to greet the day.  With an eye on the horizon and a camera ready to capture the moment, he patiently waits to get the perfect shot, a picture truly worth a thousand words, and more.  He evokes pure emotion in his photography - emotion borne out of a genuine appreciation and love of the national parks and the world around him.  It is this love and appreciation that he has brought to his many endeavors over the years and is now bringing to the Friends of Cumberland Gap National Historical Park as its newest board member.     
Harold's love for the great outdoors began as a young boy.  "In the 7 th  grade, I won a forestry medal for studies related to insects" he says.  "I knew then what I wanted to do.  That inspired me to go on to college."  While in college, Harold majored in Forestry and Parks and Wildlife, working toward a career in the outdoors.  In 1973, after college, he took a job at Cumberland Gap National Historical Park hiking the park trails, checking trail conditions and reporting his findings.  "Back then, I would sometimes hike up to 10 miles a day," he fondly remembers. "I absolutely loved it!"  
After working a season at Cumberland Gap National Historical Park, he accepted a position with the Virginia Department of Forestry where he worked closely with the National Park Service and the United States Forest Service.  After 10 years, he transferred to Virginia Tech where he worked as a cooperative extension agent in his native Lee County, Virginia.     
As the extension agent for Lee County, he quickly became the "go to" guy for many in his community.  He worked with local farmers demonstrating effective use of technology and planting methods, coordinated local 4H activities and inspired area youth, and ultimately worked toward improving the quality of life for the residents in his county.  He became known for his gentle demeanor, vast knowledge, and wealth of experience.  He also worked extensively with the park staff at Cumberland Gap on a number of projects throughout the years, including the restoration of the historic Wilderness Road, strategic planning involving communities from the tri state area of Kentucky, Virginia, and Tennessee, and reestablishing historic orchard trees at Hensley Settlement.  "This community is my home, and the park is part of my community," says Harold.  "It has given me a good deal of satisfaction to do my part to protect it."       
After 26 years, Harold retired from Virginia Tech but has yet to slow down.  These days he spends a great deal of his time with his family.  As a loving husband, father, and doting grandfather he is a man of many roles and of many interests.  An avid photographer and traveler to national parks across the country, Harold's work has appeared in numerous publications and projects.  His photography is an extension of his love of the outdoors and the national parks.  In his work with the national parks he has become an ambassador - working as a park volunteer and sharing his passion through special programs and educational presentations.  "I love the idea of our national park system," he says with pride.  "People need a place to get off the beaten path, to learn, to be inspired."  It is this inspiration that truly makes Harold a friend to the parks and it is a role that he enthusiastically embraces.     
As a new board member for the Friends of Cumberland Gap National Historical Park, Harold hopes to share his love for the park and work toward increasing community awareness and involvement.  "We are excited to have Harold on the board," says Chairman John Brown.  "His passion, knowledge, and connection with the park will inspire others to support their park."       
The Friends of Cumberland Gap National Historical Park is a non -profit organization which supports the efforts of Cumberland Gap National Historical Park.  "The friends group began as a community effort," says Park Superintendent Mark Woods.  "It has become a real asset to our community and our park.  The group has provided support directly to the park in a variety of ways, sponsoring special programs and projects, rallying volunteers to work at the park, and actively engaging local businesses and community leaders."  As a board member, Harold will be reaching out to the communities surrounding the park.  It is his hope that others will join him.  "It often begins with a simple question," he explains. "What can I do to help?  The answer is simple.  Join the Friends of Cumberland Gap and support your park!"       
Abraham Lincoln once said, "The better part of one's life consists of his friendships."  Harold Jerrell has spent the better part of his life building friendships and ultimately making his community and his national park a better place.  He is a true friend indeed.     
For more information about Cumberland Gap National Historical Park please call (606) 248-2817 or visit
www.nps.gov/cuga
.