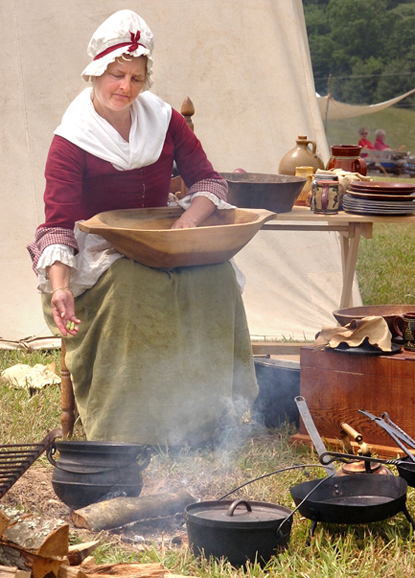 News Release Date:
March 1, 2011
Contact: Pam Eddy, (606) 246-1072
The Cumberland Gap harbors centuries of human history within its midst, and the National Park Service, goes to great lengths to preserve the past through innovative programming and special events. One such program is the newly established "Goodwife Guild" volunteer group that comes together twice a month to learn about and enjoy the mysterious world of our pioneering grandparents in a very unique way. "The Goodwife Guild" is so named to honor the life-ways of a past era when married women of the "middling" sort were called by the title of goodwife. A goodwife could cook over the fire, sew and do special needle crafts, plant and harvest flax to spin, weave and make clothes for her family, grow the garden crops to feed them, doctor them with herbs, and all the while, add babies to her brood and love them in earnest. A fearsome sight from the past to behold, these "superwomen" are not gone forever, as the Goodwife Guild hosts women of today who enjoy learning and emulating these special skills while sharing them at regional re-enactments of the 18th and 19th centuries.
Meetings of the guild are at 5:30 p.m. on the first and third Tuesdays of each month at the Cumberland Gap National Historical Park Visitor Center. All women who are interested in history or learning historic sewing and crafting techniques which possess a volunteering spirit are invited to join us as we strive to keep the old-world traditions of our grandmothers alive. Men are not excluded and are more than welcome to join in! Meetings and membership to the guild are free of charge.
For more information: Pamela Eddy (606) 246-1072