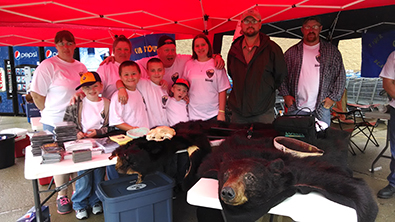 News Release Date:
July 25, 2014
Contact: Carol Borneman, (606) 246-1070
Contact: Alanna Sobel, (202) 354-6486
Grant to Help Bolster Black Bear Education Programs at Cumberland Gap National Historical Park
The Friends of Cumberland Gap National Historical Park (NHP) is one of 23 national parks or supporting organizations selected to receive a 2014 Impact Grant from the National Park Foundation (NPF), the official charity of America's national parks.The $25,000 grant will be used to purchase and install bear proof containers in local communities surrounding Cumberland Gap NHP and also augment the park's educational blitz "Back the B.E.A.R.S."
Now in its seventh year, the Impact Grants program provides national parks with the critical financial support they need to transform innovative, yet underfunded, ideas into successful in-park programs and initiatives.
"Through our Impact Grants, we will help make a profound difference in our national parks by providing much-needed funding for projects that support habitat restoration, wildlife protection, and conservation research," said Neil Mulholland, President and CEO of the National Park Foundation.
John Brown, Chairman of the Friends of Cumberland Gap NHP, enthusiastically explains "the grant as being perfect in helping us achieve our goals in supporting and fostering educational programs and research projects in the national park."Brown is also very pleased as this is the second NPF grant which the Friends of Cumberland Gap NHP has received.The first, amounting to $10,000 and awarded in 2012, supported the development of the education DVD The Civil War at Cumberland Gap, which looks at the homefront and slavery issues along with the multiple military occupations at the historic Cumberland Gap.
Cumberland Gap National Historical Park Superintendent Sula Jacobs is especially proud of the grant."The Friends of Cumberland Gap continues to work tirelessly in garnishing support for the mission of the National Park Service and especially Cumberland Gap NHP.With the increase in black bear populations and associated sightings, this is a very timely project.We know we must work hand in hand with local communities to protect the park's rich mosaic of cultural, natural and historical resources.And we appreciate the communities' support!"
Historically, the American black bear population in the tri-state area was essentially eliminated by the early 1900s due to logging of mature forests, unregulated hunting and lack of protected areas.It is only within the past 15 years that black bears have returned to the area as forests have matured, remote tracts of land are protected and the Southern Appalachian bear population has expanded. Today, the black bear population is increasing in both numbers and range.In 2003/04 the park proactively replaced all trash receptacles with bear proof trashcans and dumpsters. This action alone has significantly limited the number of human-bear interactions and ultimately reduced the possibility that bears might become habituated to human food.
Bears have large home ranges and do not recognize geographic boundaries so they are often attracted to the buffet of foods that are available in the surrounding communities in the form of discarded food, garbage, pet food and bird feeders.
Much of the southeast, including the national park, experienced a hard mast crop failure in 2013.Annual surveys are conducted in the park as part of a regional effort to determine the amount of acorns produced by both white and red oaks.Acorns are an essential component of the black bear's diet before hibernation each year.The survey in fall of 2013 revealed the lowest numbers of acorns since this survey method was initiated in 2007.When the acorn crop is good bears typically gain up to 30 pounds a week during this period before hibernation.Since this mast failure covered a wide area (multiple states), bears most likely were not able to find adequate food to gain enough weight before they entered hibernation.Until natural summer food sources are in their prime, there is the potential for human bear conflicts as bears range far and wide to search for food.Bears that come upon easy food (garbage or discarded food) in developed areas quickly become habituated to being around people and are more likely to be shot, hit by cars, or euthanized.
Park Superintendent Jacobs highlights that grant funds are already being used to help educate park visitors and residents in the local area about black bear. "Just this past Saturday July 19th, at the Middlesboro Wal-Mart, youth in Cub Scout Pack 519, and under the leadership of Ron and Charlene Boger, served as 'B.E.A.R.S. – Be Educated and Responsible Stewards' ambassadors as they assisted park staff and Kentucky Department of Fish and Wildlife Resources personnel in sharing information and providing handouts on black bear, who truly are a symbol of the wildness of the Southern Appalachian Mountains.What a wonderful commentary on a collaborative effort by the National Park Foundation, the Friends of Cumberland Gap NHP, local businesses, youth and those who supported the scouts that day.I extend my thanks to all."
The 2014 Impact Grants recipients are:
·Bryce Canyon National Park (UT)
·Capitol Reef National Park (UT)
·Congaree National Park (SC)
·Coronado National Memorial (AZ)
·Crater Lake National Park (OR)
·Cumberland Gap National Historical Park (KY,TN,VA)
·Dinosaur National Monument (CO,UT)
·El Malpais & El Morro National Monuments (NM)
·Fire Island National Seashore (NY)
·Gateway National Recreation Area (NY, NJ)
·George Washington Birthplace National Monument (VA)
·Great Egg Harbor National Scenic & Recreational River (NJ)
·Great Smoky Mountains National Park (NC,TN)
·Guadalupe Mountains National Park (TX)
·Hagerman Fossil Beds National Monument (ID)
·Hawai'i Volcanoes National Park (HI)
·Little River Canyon National Preserve (AL)
·Mammoth Cave National Park (KY)
·Manassas National Battlefield Park (VA)
·National Park Service RTCA Florida Field Office (FL)
·Rocky Mountain National Park (CO)
·Wupatki National Monument (AZ)
·Yosemite National Park (CA)
The 2014 Impact Grants were made possible, in large part, through the support of Disney and Subaru of America.
A listing of these parks and their Impact Grants project descriptions can be found on the National Park Foundation website.
For more information on the National Park Foundation and how to support and protect America's national parks, please visit www.nationalparks.org. For more information on the National Park Service, please visit www.nps.gov.
ABOUT THE NATIONAL PARK SERVICE
More than 20,000 National Park Service employees care for America's 401 national parks and work with communities across the nation to help preserve local history and create close-to-home recreational opportunities. Learn more at: www.nps.gov.
ABOUT THE NATIONAL PARK FOUNDATION
The National Park Foundation is the official charity of America's national parks and nonprofit partner to the National Park Service. Chartered by Congress in 1967, the National Park Foundation raises private funds to help PROTECT more than 84 million acres of national parks through critical conservation and preservation efforts, CONNECT all Americans with their incomparable natural landscapes, vibrant culture and rich history, and INSPIRE the next generation of park stewards. Find out more and become a part of the national park community at www.nationalparks.org.