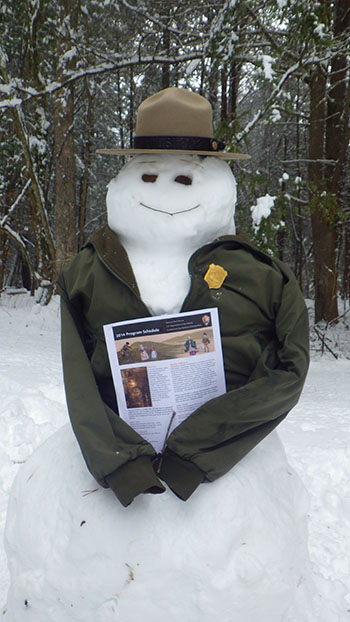 News Release Date:
March 11, 2014
Contact: visitor center, (606)248-2817
"There's Something for Everyone"
Though spoken well over 100 years ago, Cumberland Gap National Historical Park staff, in planning for this year's visitor programs, has taken to heart the following directive from famed naturalist John Muir: "Everybody needs beauty as well as bread, places to play in and pray in, where nature may heal and give strength to body and soul alike."The result: an exciting medley of programs in 2014 at Cumberland Gap showcasing the park's rich tapestry of natural, cultural and historical resources.
Park Ranger Keith Bowling sums it up best:"There's something for everyone – young and old, nature aficionados, hiking enthusiasts, history buffs, Civil War experts, Daniel Boone followers, music devotees, and even chocolate connoisseurs."Bowling reaffirms "Yes, even chocolate lovers when through a historic chocolate making demonstration next October a team from American Heritage Chocolate will share chocolate's journey through one-on-one historical bean-to-beverage demonstrations."
Bowling also illuminates other programs to be offered."Frequently, visitors have requested that we provide more guided hikes so we're doing exactly that via the 'Hike of the Month.'Hikes will lead us to the picturesque Hensley Settlement via the Chadwell Gap Trail, along the Sugar Run Trail which meanders along the gently flowing stream, past massive sandstone outcroppings and fabulous rhododendron groves as we trek up the Shillalah Creek Road and treat us to breathtaking views of the Powell Valley from the soon to be completed Cumberland Trail which will lead from Cumberland Gap to Signal Mountain just outside Chattanooga."
Barely able to contain his excitement, Ranger Bowling describes the full moon hikes."We crest the historic Cumberland Gap just as the full moon rises above these eon old mountains.This short 1.2 mile round trip hike is always a visitor favorite.In spring, we're frequently treated to the call of the whippoorwill."
The park has also partnered with the Kentucky Humanities Council to offer "Lilley Cornett: A Voice for the Forest."Chautauqua presenter David Hurt will share how Lilley Cornett, a conservationist before his time, refused to sell his valuable forest property to developers seeking to get rich from timber.His legacy is now remembered at Lilly Cornett Woods where 400 year old trees stand as sentinels.
Taking to the stage at the park's campground amphitheater will be Darron and Vanessa Nichols whose music reflects the hardships and pleasures of rural life in the Appalachian Mountains.The duo will be true to their mantra "Our music, considered bluegrass, is nothing more than our expression of feelings and emotions of life.We strive to play our music like it should be played, our style, our sound and not just another cover band."
Musicians Sparky and Rhonda Rucker will help bring to life the story of the Civil War in their "Blue and Gray in Black and White" concert.Their passion for this defining moment in America's history has inspired this special historical program which will focus on the war's impact on the different regions of our country.The music and stories, some sad and some humorous, will reflect personal insights from the various personalities who participated in the war.
Cumberland Crafts, of the Southern Highland Craft Guild and located at the visitor center, will host artisans who will share with visitors their expertise with hand tools, native materials and lots of ingenuity.Especially on weekends, visitors might be able to chat with a broom maker, a weaver or a candle stick maker.Or perhaps visitors might be able to see as birdhouses are built from wood and bark.Visitors will also be awed as they watch artists transform glass rods into dazzling, glistening glass beads.It will seem as though magic has governed the entire process.
Bowling reminds all that Gap Cave and Hensley Settlement tours will again be offered."These are very popular programs, so we certainly suggest that folks make reservations to insure they'll be able to discover Gap Cave, a grand underground cathedral and journey to the top of the mountain to explore the remote Hensley Settlement."
For dates and times of these and other programs or for a copy of the park's schedule of events, visitors can call the park visitor center at (606) 246-1075.The schedule can also be accessed from the park's web site at www.nps.gov/cuga. Once in hand, Ranger Bowling strongly encourages all to post on the refrigerator as a reminder as to what is being offered at YOUR national park.
Park programs are also being co-hosted by the Friends of Cumberland Gap and park partner Eastern National.For more information on the Friends of Cumberland Gap National Historical Park and how to become involved, please visit www.friendsofcumberlandgap.org or find them on Facebook at www.facebook.com/friendsofcumberlandgap. Learn how Eastern National supports the interpretive and educational mission of the National Park Service by visiting www.easternnational.org.Information on Cumberland Crafts is available at www.craftguild.org or www.facebook.com/cumberlandcrafts.