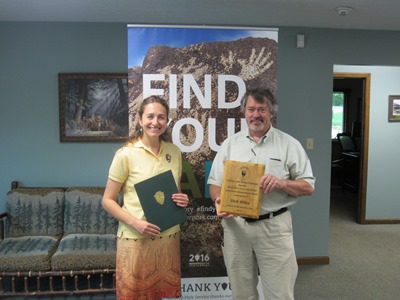 News Release Date:
June 2, 2016
Contact: Carol Borneman, (606) 246-1075
  During the afternoon hours of July 26th, 2013, Cumberland Gap National Historical Park (NHP) Chief Ranger Dirk Wiley removed his Stetson for the last time and handed in his service revolver. At 4:31 p.m. that day, Park Volunteer Dirk Wiley climbed into the Porsche Boxster convertible of a fellow employee and was ceremoniously chauffeured home. With a gentle breeze ruffling his hair, Dirk was already planning his volunteer activities. Park staff was already imagining his genius which in 2015 included filming and producing six episodes of local cable show Wild Outdoor Adventures with Ranger Carol and coordinating the 50th anniversary celebration and rehabilitation of the park's Mischa Mokwa Boy Scout Adventure Trail. It is these very outstanding contributions for which Dirk has been awarded the 2015 National Park Service's George and Helen Hartzog Individual Volunteer Award for the Southeast Region which includes over 60 national park units and thousands of volunteers.
The National Park Service (NPS) and National Park Foundation created the Hartzog Awards in honor of former National Park Service Director George B. Hartzog, Jr. and his wife, Helen. Director Hartzog established the Volunteers-in-Parks Program (VIP) in 1970 and the NPS continues the rich legacy in honoring George and Helen's vision and supporting volunteerism for today and future generations.   In 2015, more than 300 volunteers contributed almost 20,000 hours at Cumberland Gap NHP.  
    Wiley is ecstatic about the award. "For more than twenty years I had the chance to do work for the National Park Service. In all those years, and with all those people, I never stopped caring about the mission of the service. Now that I'm retired, that hasn't changed.  The only difference is that now I only do the work that I want, which, it turns out, is still a lot of work. I'm flattered by my nomination for the Hartzog VIP award, and I'm grateful to be a part of such a large group of volunteers at Cumberland Gap. My only wish is that more people would make themselves a part of the park by volunteering."
  Cumberland Gap NHP Superintendent Sula Jacobs shares, "
Wild Outdoor Adventures with Ranger Carol
airs on local community channel MCTV 22 and reaches more than 7000 households throughout Bell County, Kentucky. Dirk produces, films and edits the show (yes – really a one man show). As Cumberland Gap resources are indeed a mosaic combining cultural, 
historical and natural resources, Dirk understands that every episode stands alone and must be treated as such. Dirk ensures each episode is like a good children's book – teachable without being authoritarian, and relatable to all ages! But what Dirk keeps foremost in his mind is that strong preservation and 'These are
your
national parks!' messages are the final outcome."
Dirk's filming projects have indeed strengthened existing park partnerships and created new ones. The Wild Outdoor Adventure series have included filming the University of Tennessee Archaeological Research Lab and its use of metal detectors, ground-penetrating radar and gradiometers in locating and protecting resources. When local youth discovered a wooden wheel in the park dating back to the early 20th century and thought their back yards a more desirable home, a very observant park neighbor immediately notified park staff. The show was the perfect venue in bringing to light that the moment a historic object is removed from its natural setting, much valuable knowledge is lost as surroundings hold vital clues. The show was also the vehicle in acknowledging the Florida Bureau of Archaeological Research to which the wheel was taken for preservation. A show on honey bees gave much needed exposure to local honey growers and the importance of pollinators which due to their decline are presently on front stage. When Dirk was stung on the head by two honey bees, he never flinched for he knew he was in the middle of filming! 
"One would think that filming the above episodes would be enough to nominate this very deserving recipient but the filming energized Dirk into wanting to do more to share national parks with visitors," comments Jacobs. "For many years, Dirk has been involved with the Boy Scouts of America, and the fact that the Scout-built Mischa Mokwa Trail was celebrating its 50th anniversary in 2015 inspired him to offer that the skills of the Boy Scouts be meshed with the needs of the park – specifically the rehabilitation of a five mile segment of the 21-mile long Mischa Mokwa."  
Dirk's serving as liaison between the Boy Scouts and Cumberland Gap and orchestrating the Mischa Mokwa rehabilitation gave the opportunity for Appalachian youth to work side by side with park staff. This provided a real life "job fair" glimpse into work opportunities. Park staff was able to connect with these youth and share with them information on youth programs such as the American Conservation Experience, Student Conservation Association, and PATHWAYS.  
   Superintendent Jacobs reflects, "As a National Park Service Ranger, Dirk Wiley went above and beyond the call of duty. As a National Park Service Volunteer, Dirk Wiley goes above and beyond the call of duty. In 2015, Dirk and all Cumberland Gap volunteers truly epitomized the pinnacle of volunteering as described by Winston Churchill in his quote, 'What is the use of living, if it not to strive for noble causes and to make this muddled world a better place for those who will live in it after we are gone?'"