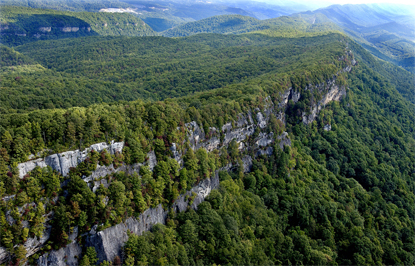 News Release Date:
September 24, 2009
Contact: Carol Borneman, (606) 248-2817
Help Us Make America's Best Idea Even Better!
Join Cumberland Gap National Historical Park on September 26 for a Day of Service and Celebration
Be part of an unprecedented event on September 26 when Cumberland Gap National Historical Park (NHP) and national parks across the country invite you to make America's Best Idea – the national parks – even better.  Presented by the National Park Service and the National Park Foundation, September 26 will be a special day of service and celebration for visitors and volunteers to experience their parks and catch a sneak preview of Ken Burn's new documentary The National Parks: America's Best Idea premiering on PBS on SeptActing Superintendent Deanna Phillips enthusiastically explains "Cumberland Gap is truly one of our nation's great treasures and part of America's Best Idea.  Cumberland Gap was the first doorway to the west; between 1775 and 1810, literally, a flood of migration occurred as upwards to 300,000 pioneers from all ethnic groups and walks of life journeyed through the Gap into Kentucky searching for a better life.  Cumberland Gap is not only a story rich in history, but is a complex mosaic of abundant and diverse plant and animal life, spectacular scenery, and almost 80 miles of trails."
Park Naturalist and Volunteer Coordinator Scott Teodorski further elaborates that "Making that best idea even better is our goal and one we can only accomplish with the support of our park neighbors, visitors, volunteers, and partners.  We have a great volunteer opportunity outlined for September 26.  Volunteers will meet at the park visitor center at 9 a.m.  We'll load  volunteers in vans and take them to trailheads where we'll be able to work on some of the park's most scenic trails.  Combine the camaraderie with the fantastic scenery and the fact that as group, we're all working to make our parks better, and the day will be perfect."
To thank all, Cumberland Gap will offer a special program Saturday evening in the visitor center auditorium at 7 p.m. on America's national parks.  The park will also offer a sneak peak of the new Ken Burns' film The National Parks: America's Best Idea that premiers on September 27. 
Cumberland Gap's September 26 programs are just several of many occurring in the national parks across the country.  The nationwide program is cosponsored by the National Park Foundation (www.nationalparks.org), the National Park Service's Congressionally-chartered philanthropic partner.  See www.nps.gov/September26 for more information.     
Inspired by Ken Burns' film, a Kentucky Educational Television (KET) new Kentucky Life special, will explore several of the Commonwealth's nationally recognized treasures.  Host Dave Shuffett takes viewers on a unique tour of the state, with stops at Cumberland Gap NHP, Big South Fork National River and Recreation Area, the Abraham Lincoln Birthplace National Historical Park and the Trail of Tears National Historic Trail.  Kentucky's National Parks: A 'Kentucky Life' Special premiers during KET's WinterPledge 2009, taking place November 28 through December 6.  A twelve minute segment of this special will air on Monday, September 28 immediately following KET's showing of Ken Burn's film.