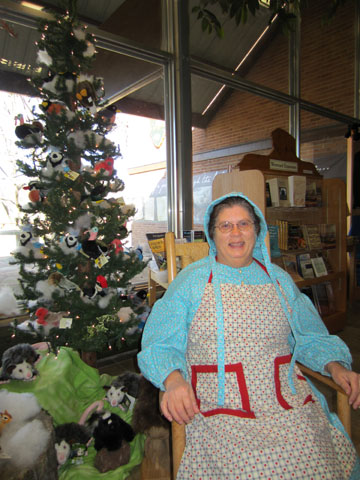 News Release Date:
December 5, 2014
Contact: Sharon Griffin, (606) 246-1075
December 13th Program to Offer Storytelling, Ornament Making and Feasting Upon Apple Stack Cake
Her voice is melodious with mesmerizing warmth immersing all in days gone by. With a twinkle in her eyes, she recounts "Having been born in Appalachia when money was scarce and the thought of modern day contraptions was just a figment of most folks' imaginations, winter was a snowy, magical wonderland. Trees and bushes sparkled like diamonds. Christmas was a very important time of the year –a time for visiting and for Grandma making rag dolls and Daddy making sling shots to place under the tree." She is storyteller Stella Garland and on December 13th at 10:00 a.m. at the Cumberland Gap National Historical Park visitor center, she will illuminate tradition, family history, and a connection with the special spirit upon which the Christmas season should be founded.
Young and old alike are invited to this special program to enjoy apple stack cake, Christmas cookies and hot chocolate. Next to the storyteller's side will be old fashioned toymaker Joey Beason. Join both in making a craft to share with loved ones on Christmas morning.
This free program is being co-hosted by the Friends of Cumberland Gap and park partner Eastern National.  For more information about Cumberland Gap National Historical Park, please call (606) 248-2817 or visit www.nps.gov/cuga. For more information on the Friends of Cumberland Gap National Historical Park and how to become involved, please visit www.friendsofcumberlandgap.org or find them on Facebook at www.facebook.com/friendsofcumberlandgap. Eastern National supports the interpretive and educational mission of the National Park Service;learn more by visiting www.easternnational.org.