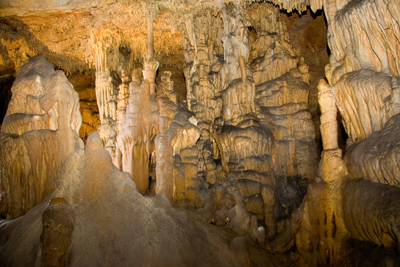 News Release Date:
April 6, 2010
Contact: Carol Borneman, (606) 248-2817
Cumberland Gap National Historical Park to Offer Free Gap Cave Tours
Spring is in the air and as Americans and visitors from abroad gear up for their national park visits, Secretary of the Interior Ken Salazar has announced that all 392 national parks will offer free admission during National Park Week, April 17th April 25th. Parks will also offer additional family friendly activities and special offers on tours, lodging, food, and souvenirs. At Cumberland Gap National Historical Park, Gap Cave tours will be free during the National Park Week Celebration.  A listing of parks and promotions is available at www.nps.gov/npweek.
We are rolling out the red carpet and inviting everyone to visit a national park and help celebrate National Park Week, said Secretary of the Interior Ken Salazar.  Parks are fun and affordable destinations and great places to engage in healthy, outdoor activities, whether for a few hours or a few days.
National Park Week, a program of the National Park Service, is an opportunity to engage families and communities in America's Great Outdoors, reconnecting them with nature and creating close to home opportunities for people to get outside, be active, and have fun.
National parks preserve our heritage, promote recreational experiences, and provide places of quiet refuge, said National Park Service Director Jon Jarvis.  Most people live within a short drive of a national park so I encourage everyone to spend some time enjoying America's Great Outdoors during National Park Week.
As Cumberland Gap prepares for this week of celebration, visitors are reminded that reservations are recommended for the Gap Cave tour as each tour is limited to 15 visitors. Superintendent Mark Woods explains that a small group is a necessity to insure the safety of visitors. Low ceilings and steep stairs within the cave can be a safety issue, but with a small group, we're able to keep a close watch over park visitors.  Woods further elaborates that a small group also gives visitors the unique opportunity to experience the cave close up with its massive stalagmites, gorgeous flowstone and glistening stalactites. We can hear water droplets falling upon the cave floor.   And, we have better chances of seeing the critters bats and salamanders which make the cave their home. Reservations for cave tours can be made by calling (606) 248 2817, extension 1075. The tour includes 1 ½ miles of walking, ½ mile which is in the cave itself. 183 steps must be negotiated within the cave. Children under five are not allowed. 
On Saturday, April 24, there will be hundreds of family friendly events for National Junior Ranger Day. At Cumberland Gap, junior rangers will be able to glimpse into the life of a Civil War soldier at the Gap. Junior rangers will muster and march into the historic Gap with a ranger, discover why both the North and the South occupied the Gap at various times during the war and hear the story of General Morgan's retreat. Junior rangers and their parents should meet at the Thomas Walker parking area at 10:00 a.m.  Each child participating in Junior Ranger activities will receive a certificate, patch, or pin.
Other National Park Week highlights include the 40th anniversary of Earth Day and the 75th anniversary of the nation's most visited national park the Blue Ridge Parkway.
Normally, 146 of 392 national parks charge entrance fees ranging from $3 to $25. The other 246 do not charge for admission. The fee free waiver for National Park Week does not include fees charged for camping, reservations, picnic shelters and use of concessions.
For additional information on National Park Week and program offerings at Cumberland Gap, call (606) 248-2817, extension 1075 or visit www.nps.gov/cuga.