Date:
November 17, 2013
Contact:
Carol Borneman
, (606) 248-2817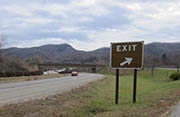 Changing Traffic Patterns to Be In Effect
Beginning Monday, November 18th, preventative maintenance work will begin on highly used bridges in Cumberland Gap National Historical Park, resulting in changing traffic patterns. Acting Park Superintendent John Slaughter reminds all that they should be constantly alert to these new, but temporary, traffic flow changes. "Sealing of bridges on both the Kentucky and Tennessee sides of the Cumberland Gap tunnel will at times result in traffic being reduced to one lane." Slaughter continues to explain that the bridge on the Pinnacle Road will have but one lane open which will be used for both up and down travel. "Flaggers on the Pinnacle Overlook road bridge will be stopping and directing visitors as when to proceed."
Slaughter emphasizes that a major detour will result from the temporary closure of the overpass to/from US 25 E leading into the park on the Kentucky side. "Folks traveling from Virginia and Tennessee north through the tunnel with the Kentucky side of the park as their destination will first need to drive into Middlesboro to turn around. They can then travel south on US 25 E to the exit ramp leading into the park."
"Visitors exiting the park and wanting to head north into Middlesboro or beyond will first have to travel south on US 25 E, proceed through the tunnel and then turn around near Harrogate or Cumberland Gap, TN. They can then proceed north on US 25 E, travel through the tunnel and proceed into Middlesboro."
Temperatures will define on which day and which bridges preventative work will occur, as successful sealing of bridge surfaces requires six hours of temperatures at 40 degrees and higher.
"With forecasts for the next several weeks in the 50's and 60's and even heading towards the 70's, we have a great window in which to complete this work." Slaughter mentions that rain too may impact the project progress.
"Understanding that road work is never pleasant for drivers, we'll be working with local officials, state and local police, tunnel staff, the contractor and of course drivers and visitors to insure that the project poses the least frustration, is completed efficiently and that all remain safe during the project's duration."
For up to date information on the road work, visitors can call the park visitor center at (606) 246-1075.