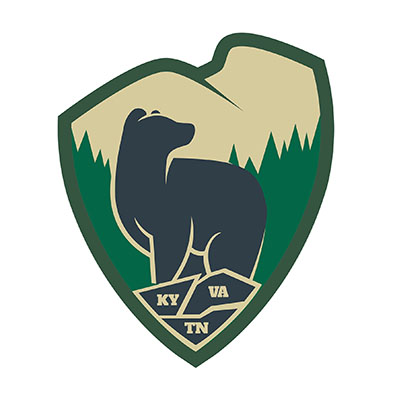 News Release Date:
April 6, 2014
Contact: Carol Borneman, (606)246-1070
Contact: visitor center, (606)246-1075
It's that Time of Year!
Likely Bear Sightings Due to Poor Autumn Food Supply
 As anticipation and excitement mount for the April 18th, 2014 release of Disneynature's big screen "Bears," Jenny Beeler, Resource Management Specialist at Cumberland Gap National Historical Park alerts all that black bears may be coming to your "big screen" yard or community well before the movie release. Beeler explains that "last fall's food mast – acorns and other tree nuts – was very poor. Bears went into hibernation with limited body fat reserves, so they are waking up very hungry and no doubt, there will be many sightings as bear search for food!" But Beeler also quickly interjects that with the correct bear facts, "we can all live together, avoid bear-people interactions and enjoy this symbol of the forest."
According to Beeler, if you see a bear "Keep a respectful distance! Should a bear be up a tree or on or near your property, give it space. Do not approach, and bring your pets inside to provide the bear a clear path to leave your property."
Beeler cites that the park does receive phone calls from park neighbors and others describing how bear have been consuming bird seed, garbage, pet food, etc. on their property. "We strongly emphasize that the best way to encourage the bear not to return is to REMOVE the food source." Beeler also shares the following suggestions from the Virginia Department of Game and Inland Fisheries with whom the park works closely:
The best way to encourage the bear not to return is to remove the food source. 
Do not store household trash, or anything that smells like food, in vehicles, on porches or decks. 
Keep your full or empty trash containers secured in a garage, shed or basement. 
Take your garbage to the dump frequently.
If you have a trash collection service, put your trash out the morning of the pickup, not the night before. 
Take down your birdfeeder for 3-4 weeks after the bear visits. 
Consider installing electric fencing, an inexpensive and extremely efficient proven deterrent to bears, around dumpsters, gardens, beehives, or other potential food sources.
If addressed quickly, this situation can be resolved almost immediately after you remove the food source. Sometimes, the bear may return searching for food, but after a few failed attempts to find it, will leave your property.
If a bear is discovered on one's property, Beeler again reminds all it should not be fed. "Feeding a wild animal is the worst thing a person can do as the animal will be food conditioned and become dependent on humans thus giving it the name of 'panhandler.' Panhandler bears are more likely to be hit on the road, be killed by a poacher, or eat something toxic that kills them. Wild bears live 23% longer than panhandler bears.  Animals, especially young, need to learn how to find natural foods. And, feeding a wild animal under any circumstances is illegal in Kentucky and Virginia."
Beeler admits that there is much to learn when it comes to bear facts. "I'm amazed at this highly adaptable and intelligent animal and I'm continually learning more and more about bear behavior.  To help people really appreciate, understand and know what to do when it comes to bears, Cumberland Gap National Historical Park has embarked on the aggressive educational campaign 'BACK THE B.E.A.R.S. – Be Educated and Responsible Stewards.' We've worked with Steven Spicer Design in Knoxville, Tennessee to create a unique logo that really pops. Cumberland Gap is in Kentucky, Tennessee and Virginia, very evident in the logo. We want park neighbors to also be fiercely proud and protective of bear populations in the area and the unique tourism opportunities that exist due to the black bear presence. The bear standing on the rock really represents this forest denizen as the pinnacle in the southern Appalachian forest."
Park staff is also available to present programs to groups. "Ask 'Be Bear Aware' students at Middlesboro (KY) Elementary, the Salvation Army of Middlesboro and Southeast KY Youth Group and Christian Heritage Academy in New Tazewell, TN who were recently visited by park rangers and they will immediately spell out rules for keeping bears wild!" Groups interested in scheduling a bear awareness program should call the park visitor center at 606-246-1075. General information on bear can also be obtained by calling this number. 
Summing it up, Resource Management Specialist Beeler campaigns "It's going to take all of us working together to keep bears wild. We can do it!"