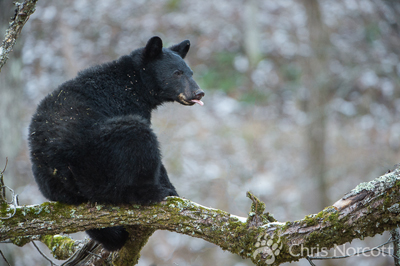 News Release Date:
April 17, 2015
Contact: Carol Borneman, (606) 246-1070
Educational Event to Include Hands-On Activities, Exhibits and Renowned Speakers
Spring arrival has brought with it the brilliant purple blooms of the redbuds, the enchanting red and yellow flowers of the wild columbine, the sweet aroma of the lily of the valley, the return of the scarlet tanager with its charming red and black hues….and hungry black bears. Which is exactly why all should attend the April 24th and 25th" Back the B.E.A.R.S." being held at Cumberland Gap National Historical Park.
Jenny Beeler, the park's Resource Management Specialist, promotes this event as "one stop bear fact shopping" where visitors will have numerous opportunities to connect with black bear experts and learn how "we can all live together, avoid bear-people interactions and enjoy this symbol of the forest."  Beeler admits that there is much to learn when it comes to bear facts. "I'm amazed at this highly adaptable and intelligent animal and I'm continually learning more and more about bear behavior. To help people really appreciate, understand and know what to do when it comes to bears, the park has embarked on this aggressive educational campaign 'BACK THE B.E.A.R.S. – Be Educated and Responsible Stewards.'  We want park neighbors to also be fiercely proud and protective of bear populations in the area and the unique tourism opportunities that exist due to the black bear presence."
700 students from the Tri-State area are already signed up for Friday April 24th and according to Amy Settles, the park's Biological Science Technician, these 'Be Bear Aware' students will be treated to an amazing array of programs. "There will be hands-on activities galore for kids!  Staff from Appalachian Bear Rescue, an one-of-a-kind black bear rehabilitation facility located just outside of Great Smoky Mountains National Park (NP) will be on hand to share black bear stories. Park rangers will demonstrate bear hazing, a good spanking for 'bears gone bad. 'Bear skulls and skins will showcase this animal's amazing adaptations. Kids will be able to have their photos taken with the family of bear cut outs. And youngsters will be able to demonstrate their artistic flair as they color small bear magnets to take home with them to place upon their refrigerators. "Settles explains that the "bear magnets will serve as a great reminder that bear should never be fed."
An expanded schedule on Saturday April 25th will include the program "Bear in the Back Seat –Adventures of a Wildlife Ranger" by Kim Delozier, author and retired bear expert from Great Smoky Mountains NP. Delozier will be on hand to sign copies of his exciting and entertaining book.  Stunning black bear photography by Faye Sykes and Chris Norcott will be featured. Presentations by Joe Yarkovich, Wildlife Biologist for Great Smoky Mountains NP and Johnny Wills of the Virginia Department of Game and Inland Fisheries will illuminate how wild bears live 23% longer than panhandler bears, those which have become food conditioned and dependent on humans. Artisan Jim Gentry will mesmerize with his macramé jewelry which incorporates black bear charms.  Artwork submitted for the black bear youth art contest will be on display with all artists being recognized during an awards presentation. And face painting of bear and other wildlife will captivate youngsters."
Friday's schedule still allows ample room for more school children to participate. Teachers and parents of home schooled children can call the park at (606) 246-1075 to reserve their slots. A schedule of activities can be found at www.nps.gov/cuga.
Summing it up, Resource Management Specialist Beeler campaigns "It's going to take all of us working together to keep bears wild. We can do it and one of the first ways is by becoming 'Bear Aware' at this fun and free event!"
The event runs each day from 9:00 a.m. to 4:00 p.m. A large tent will protect all from sun or rain.
This event is made possible by generous funding and support from the National Park Foundation www.nationalparks.org, the Friends of Cumberland Gap National Historical Park www.friendsofcumberlandgap.org or www.facebook.com/friendsofcumberlandgap, and park partners EasternNational www.easternnational.org and Cumberland Crafts of the Southern Highland Craft Guild www.southernhighlandguild.org.