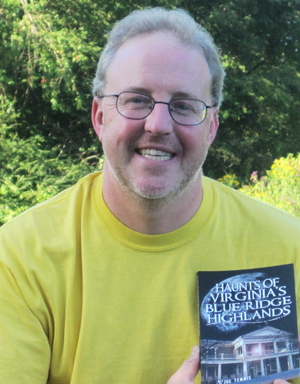 News Release Date:
September 28, 2011
Contact: visitor center, (606) 248-2817, extension 1075
Just in time for the Halloween season and the turning of leaves at autumn, Bristol, Tennessee author Joe Tennis comes to Cumberland Gap National Historical Park to share spooky tales of a creepy coffin and a cave called Cudjo's.
At Cumberland Gap National Historical Park, what was long called "Cudjo's Cave" - now "Gap Cave" - is allegedly haunted by a ghostly Civil War officer, who moves back and forth near the stairwell that park rangers jokingly call "The Ultimate Thighmaster."
Two of the park's young rangers, who themselves are Civil War aficionados, reported seeing this Civil War apparition in 2009 while leading a tour through the cave. Just a few weeks later, Tennis, 42, stopped to investigate while collecting historical accounts and hauntings for the lead story of his recently released "Haunts of Virginia's Blue Ridge Highlands" (The History Press, $14.99).
On Sunday, October 9 at 2 p.m., Tennis will be speaking on "Haunts" and telling ghost tales in a free program at the Cumberland Gap National Historical Park visitor center in Middlesboro. He will also sign copies of his books at the park's visitor center.
"Haunts" marks a follow-up to Tennis's "Beach to Bluegrass" book, tracing tales across Virginia from Cumberland Gap to Virginia Beach along U.S. Highway 58.
"Where 'Beach' stopped at Cumberland Gap, 'Haunts' takes off at Cumberland Gap and turns back east, reaching the haunted Henry County Courthouse and my own frightening experience at the Reynolds Homestead of Patrick County," said Tennis, a features writer for the Bristol Herald Courier.
For "Haunts," Tennis discovered a tale of possible leftovers of the Civil War at Sugar Run, Bedford and Independence. He also tells of the ghostly woman haunting the Mountain Lake Resort Hotel, where the hit movie "Dirty Dancing" was filmed 25 years ago. "And there's another tale along the Kentucky-Virginia border of a man jumping out of his grave at Breaks Interstate Park," said Tennis.
Tennis's "Haunts" contains both photographs and stories of Southwest Virginia, much like the author's first book, "Southwest Virginia Crossroads" (The Overmountain Press, $29.95), an illustrated history and guide featuring essays and photos of Cumberland Gap, Burke's Garden, Grayson Highlands State Park and Whitetop Mountain.
The author's "Beach to Bluegrass" (The Overmountain Press, $17.95), features historic tales stretching from Virginia Beach, Va., to Middlesboro, Ky., including Civil War stories at Jonesville and Danville and quirky tales of a UFO, Brunswick Stew, Mr. Peanut and haunted hotels.
For additional information on Cumberland Gap National Historical Park's programs, please call 606-248-2817, extension 1075.
About the National Park Service. More than 20,000 National Park Service employees care for America's 395 national parks and work with communities across the nation to help preserve local history and create close-to-home recreational opportunities.
Learn more at www.nps.gov