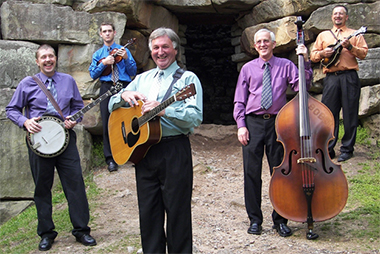 News Release Date:
July 6, 2015
Contact: Carol Borneman, (606)246-1070
Local Musician CF Bailey &Shadow Ridge to Perform at Cumberland Gap National Historical Park
Summer is upon us! Americans have packed up their cars for travels near and far!For many, the words proclaimed in 1916 by J. Horace McFarland, president of the American Civic Association, are guiding their travel: "The parks are the Nation's pleasure grounds and the Nation's restoring places.... The national parks...are an American idea; it is one thing we have that has not been imported."
Come Saturday, July 11th, 2015 at 8:00 p.m., visitors to Cumberland Gap National Historical Park will certainly find a pleasure ground and receive a five star visit when local talent CF Bailey and Shadow Ridge take to the stage at the Wilderness Road Campground amphitheater and present an evening of traditional bluegrass music. Park Ranger Matthew Graham explains that with the park's rich Appalachian history "this four-piece East Tennessee band, formed about 14 years ago, fits the bill and specializes in solid, spirited hard driving bluegrass with some powerful vocal harmonies that are second to none." Graham also shares that bluegrass aficionados ecstatically applaud the group's albums including "Out of My Mind," "Where Does the Good Times Go," "Is This for Here or To Go," and their newest "Hillbilly Big Shots."
Founding member CF Bailey of Tazewell, TN hails originally from Lee County, VA; as front man, he plays rhythm guitar and sings tenor and lead vocals. Banjo player and baritone Johnny Siler calls Tazewell, TN home. Jonathon O'Neal, also of Tazewell, plays his hard driving mandolin, a perfect match for his baritone voice. Travis Sutton, of Oneida, TN plays bass and sings both tenor and baritone!
Shadow Ridge has performed at the national level on some of the largest stages including the Starvy Creek Bluegrass Festival in Conway, Missouri;the Golden Valley Bluegrass Festival in Clinton, Missouri;the Dumpling Valley Bluegrass Festival in Sevierville, TN; and the Two Rivers Bluegrass Festival in Leakesville, MS.
The concert is free. The Wilderness Road Campground is located in Virginia, two miles east of the Hwy 25E and Hwy 58 intersection. Visitors should proceed to the amphitheater, located at the end of loop C where parking is available.In case of rain, the program will be held at the national park visitor center, located on Hwy 25E, just south of Middlesboro, KY.This program is being co-hosted by the Friends of Cumberland Gap National Historical Park and park partner Eastern National.
For more information about Cumberland Gap National Historical Park, please call (606) 248-2817 or visit www.nps.gov/cuga. For more information on the Friends of Cumberland Gap National Historical Park and how to become involved, please visit:
www.friendsofcumberlandgap.org or find them on Facebook at:
www.facebook.com/friendsofcumberlandgap.
Learn how Eastern National supports the interpretive and educational mission of the National Park Service by visiting www.easternnational.org.