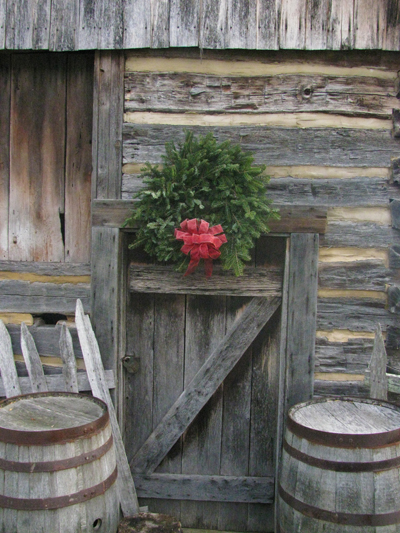 News Release Date:
December 2, 2011
Contact: Pam Eddy, (606) 248-2817, extension 1072
Each year, deep in Appalachia, the holiday season is ushered in as Christmas-red cardinals decorate snow covered hemlocks. Icicles become nature's diamonds frosting rocky mountainsides. The brisk air makes one's skin tingle. Christmas bells treat ears to a medley of jingles. And at Cumberland Gap National Historical Park's "Taste of Christmas Past," children of all ages will thrill in the magic of mountain holidays of old.
On December 10th, at 10:00 a.m., the park visitor center will be filled with the sights, sounds, visions and tastes of bygone Appalachian Christmas seasons. Among other special treats, this year's program will feature folklorist and musician Marilyn McMinn-McCredie from the hills of North Carolina. This unassuming woman who says "I've been living and keeping alive Appalachian folklore for over 50 years" has an aura about her that reminds many people of their own grandmothers. As her stories spill out recounting mountain holiday memories, customs and traditions, young and old alike will share old time delectable favorites like Christmas cookies, hot chocolate, eggnog and Twelfth Night Cake!
Folklorist McMinn-McCredie remembers that as a child, she was tutored by her grandfather about true old-time holiday gift giving and how it would often take the whole year for mountain folk to make their gifts for loved ones. To keep this homemade gift tradition alive, children will be able to make special gifts for loved ones.
A rare visual treat of the Christmas program will be the opportunity to view Victorian holiday scenes through an antique stereoscope - a popular gift item from over a century ago! Stereoscopes, when used to view 100-year old Christmas scenes, create a realistic three dimensional view of holidays past!
Park Ranger Pam Eddy proclaims "Take home a handmade craft and your decorated gingerbread cookie, as well as a warm memory of Christmas past!" Eddy further describes the park "as a truly special place for families to enjoy holiday celebrations of hiking, sightseeing and exploring the history of the region." While the visitor center will be closed on Christmas Day, the road leading to the Pinnacle Overlook as well as park trails will be open.
For additional information on Cumberland Gap National Historical Park's programs, please call 606-248-2817, extension 1075.