Date:
July 21, 2011
Contact:
visitor center, (606) 248-2817, extension 1075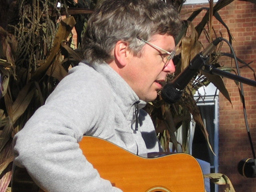 Appalachia - a land defined by eons' old weathered mountains and lush forests. Appalachia - settled by a determined and self sufficient people. Appalachia - its people lauded for their mastery of quilting, chair caning, basketry, spinning and weaving. Appalachia - deserving of celebration in song by noted musician Ted Olson at Cumberland Gap National Historical Park on July 30th.
With majestic pines overhead, the aroma of the campfire and a soft evening breeze touching their cheeks, visitors will hear the rhythmic thumping of
John Henry's
hammer, the explosive call of
Timber!
and the unending baying of
Old Bangum
on the trail of a coon. Park Ranger Matthew Graham applauds Olson as the perfect choice in singing tribute to the "Southern Highlands," as the accomplished musician for more than 25 years has performed Appalachian, British, and Irish folk songs and ballads at a wide variety of educational and entertainment venues (accompanying his singing on guitar, banjo, and dulcimer, with spoken introductions to each song/ballad to establish the historical context). Ranger Graham also notes that Olson is a Professor of Appalachian Studies at East Tennessee State University (ETSU) in Johnson City, Tennessee, and has served as Director of ETSU's Appalachian, Scottish, and Irish Studies program and as Interim Director of that school's Center for Appalachian Studies and Services. Additionally, Olson has produced and compiled three documentary CDs of traditional Appalachian music, and has written liner notes for various CDs of American vernacular music released by several record companies (including Rounder Records, Lonesome Records, the Great Smoky Mountains Association, and the Ralph Stanley Museum and Traditional Mountain Music Center).
Olson is multi-talented, an esteemed trademark of the Appalachian people. His skills span far beyond music, penetrating into the literary world. He
is the author of
Blue Ridge Folklife
(University Press of Mississippi, 1998); the author of
Breathing in Darkness: Poems
(Wind Publications, 2006); the author of
Impossible Wind: The Formative Poetry of Robinson Jeffers
(Edwin Mellen Press, 2011); and the editor of a poetry collection by James Still,
From the Mountain, From the Valley: New and Collected Poems
(University Press of Kentucky, 2001).
Visitors will be able to hear Olson at 8 p.m. at the national park's Wilderness Road Campground located in Virginia, two miles east of the Hwy 25E and Hwy 58 intersection. Visitors should proceed to the amphitheater, located at the end of loop C where parking is available. In case of rain, the program will be held at the national park visitor center, located on Hwy 25E, just south of Middlesboro, KY. This program is being co-sponsored by the Friends of Cumberland Gap.
For information on the celebratory concert and other park programs, please call 606-248-2817, extension 1075.