Date:
May 15, 2009
Contact:
Carol Borneman
, (606) 248-2817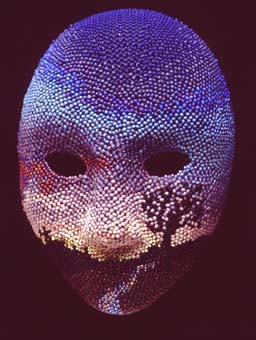 "Activities galore" best describes Memorial Day Weekend at Cumberland Gap National Historical Park explains Superintendent Mark Woods. "Whether visiting the park individually, with friends, or with the family, the park's great array of activities should certainly pique one's interest." Woods further describes that Cumberland Gap's programs will mesh nicely with Pine Mountain State Park's Mountain Laurel Festival providing for a fantastic weekend in the Tri-State area. On Saturday, May 23rd, visitors are invited to connect with internationally recognized artist Kathy Seely of Oliver Springs, Tennessee who will be at the park visitor center from 10:00 a.m. to 4:00 p.m. demonstrating her craft of bead jewelry. Lynn Stanley, manager of Cumberland Crafts which is hosting the demonstration, applauds Seely's work: "Kathy is known for her intricate designs and fine workmanship using tiny seed beads. Her jewelry and sculptural pieces incorporate contemporary and rare vintage beads, stones and other elements. Kathy really draws a crowd."
On Saturday evening at 8 p.m., visitors are invited to take a trip down memory lane at the national park's Wilderness Road Campground Amphitheater as acclaimed folk musician Anndrena Belcher takes to the stage, blending stories from the Old World and the Appalachian Mountains with music, dance and audience participation. Author and oral historian Studs Terkel describes Anndrena as "one of our secret national treasures. More than ever is her gift as a storyteller needed today. We may have lost our tribal memory, at least for the moment. It is an artist like Anndrena Belcher who can help us recapture it." In the event of rain, the program will be held at the national park visitor center.
The excitement of the weekend continues into Sunday, May 24th when Archeologists Gwynn Henderson and David Pollack from the Kentucky Archeological Survey present "Trinket or Treasure?" at the park visitor center at 2:00 p.m. The duo will present a short program on Kentucky archeology and then help identify any artifacts the public might bring in. Park Historian Martha Wiley encourages visitors "to search your closet corners and dresser drawers for any hidden trinket that you have tucked away as it may truly be a treasure!" As with Seely's art demonstration and Belcher's concert, this program too is free of charge.
Superintendent Mark Woods also reminds visitors that Gap Cave and Hensley Settlement tours will be in full swing over the Memorial Day Weekend. "The recent heavy rainfall has really been a blessing for the cave. Pools that have been dry for years are now filled to the brim and water droplets on stalactites make the formations glisten like jewels. Hensley Settlement is exquisite as field and forest are lush and mountain laurel and rhododendron blossoms are ready to burst open in a brilliant display." Reservations are recommended for the Gap Cave and Hensley Settlement tours and can be made by calling the park visitor center at 606-248-2817, extension 1075.