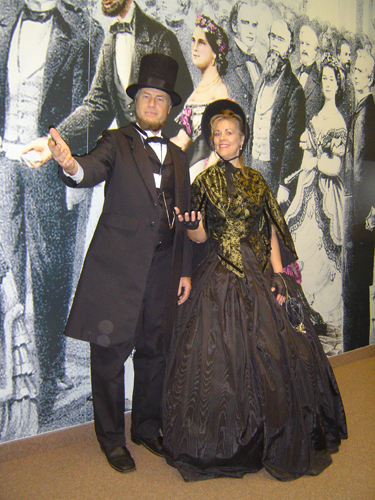 News Release Date:
July 2, 2008
Contact: Carol Borneman, (606) 248-2817
    "I am rather inclined to silence, and whether that be wise or not, it is at least more unusual nowadays to find a man who can hold his tongue than to find one who cannot."
              Abraham Lincoln - February 14, 1861
On a bitterly cold day in February, a baby boy was born in a small one room log cabin in central Kentucky. As a young lad, he learned to read from the family Bible by the flickering flames from the fireplace. At his parents' knees, he learned skills, grew in character and gained remarkable wisdom. As he nurtured into a man, he did not know his destiny … becoming a great leader who would take America through dark days of conflict and to the restoration of a democracy. This man, Abraham Lincoln, became the sixteenth president of the United States.
Come to Cumberland Gap National Historical Park on July 5th … listen to Mr. Lincoln as he recounts his life. Learn the stories of his grandfather, Abraham, who traveled across the Cumberland Gap by wagon. Hear about his lost love and his marriage to Mary Todd. Larry Elliot, as Abraham Lincoln, brings insight into this quiet, but yet humorous man who became a great leader.  
Larry, also born in near Hodgenville, Kentucky, has a lot in common with the Great Emancipator. Not only is he the same height as Lincoln, he married a lovely lady named Mary. After entering a Lincoln look-a-like contest, Elliott realized his job as a salesman was just not enough. He began to study Mr. Lincoln… he became Mr. Lincoln.
This exciting meeting with Lincoln begins at 8:00 p.m. at the Wilderness Road Campground Amphitheater located in Virginia, off of U.S. Highway 58, and is sponsored by the National Park Service and park partner Eastern National. The program is free of charge.  
For information on this and other ranger programs, contact Cumberland Gap National Historical Park at 606-248-2817, extension 1075.