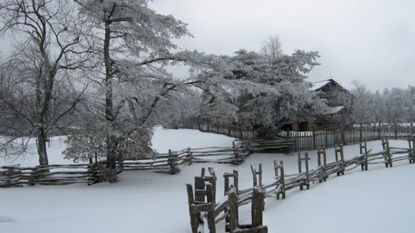 News Release Date:
December 4, 2010
Contact: Pam Eddy, (606) 248-2817, extension 1072
It's easy to get overwhelmed this time of year by store catalogs, blaring commercials from the television and radio, and other intrusions interfering with the preparation for Christmas. Leave the modern world behind and visit Cumberland Gap National Historical Park on Saturday, December 11th at 10:00 a.m. at the park visitor center for our Taste of Christmas Past. Feast on Twelfth Night cake, enjoy a cup of cider or hot cocoa, and help us decorate our 8-foot Christmas tree. Families can make paper chains, string popcorn and cranberries, decorate gingerbread men, make a Christmas card, and listen to stories of Appalachian Christmases past while the tunes of a mountain Christmas play in the background. Kids and kids at heart - take home a homemade Christmas stocking filled with old fashioned treats of apples, nuts, and oranges.
For additional information, please call the park visitor center at 606-248-2817, extension 1075.