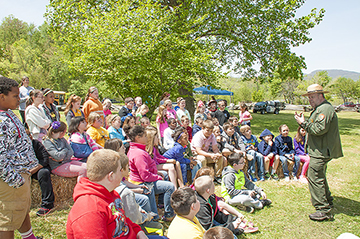 News Release Date:
April 30, 2015
Contact: Sula Jacobs, (606) 246-1052
Contact: Carol Borneman, (606) 246-1070
Report Shows Visitor Spending Supported 828 Jobs in Local Economy
A new National Park Service (NPS) report shows that visitors to Cumberland Gap National Historical Park (NHP) in 2014 spent $54,075,000.00 in communities near the park.That spending supported 828 jobs in the local area and had a cumulative benefit to the local economy of $67,642,900.00.
"Cumberland Gap NHP welcomes visitors from across the country and around the world," shares Superintendent Sula Jacobs."We are delighted to share the story of this very special place and the experiences it provides.We also feature the park as a way to introduce our visitors to southern Appalachia and all that it offers.National Park tourism is a significant driver in the national economy, returning $10 for every $1 invested in the National Park Service, and it's a big factor in our local economy as well.We appreciate the partnership and support of our neighbors and are glad to be able to give back by helping to sustain local communities."Superintendent Jacobs further reminds all that Cumberland Gap is located within Kentucky, Tennessee and Virginia and the four counties of Bell and Harlan, Kentucky;Claiborne in TN;and Lee in Virginia.
Jacobs explains that the park's April 24th and 25th "Back the B.E.A.R.S. –Be Educated and Responsible Stewards" educational event is a superb example of the park generating revenue for the area."Almost 1400 visitors, including 786 school children attended the event.Many of our speakers and exhibitors were from outside the area so local lodging, food and gas were definite necessities for them."
Carl Nichols, Director of the Claiborne County (TN) Tourism Commission elaborates "The economic impact of tourism upon Claiborne County and the local Tri-State area is much greater than many people realize. With Cumberland Gap NHP estimating $54 Million in tourism spending coming into the area annually from park visitors, the states of TN, KY, and VA are greatly impacted from this revenue source. Claiborne County not only benefits from visitors but also from the millions of tourism dollars generated by Norris Lake, Lincoln Memorial University, Woodlake Golf Club, and the Tazewell Raceway, just to name a few."
Judy Barton, President and Chief Executive Officer of the Bell County, KY Tourism Commission enthusiastically corroborates "We feel that Bell County Tourism Commission is an integral part of supporting and promoting the Cumberland Gap National Historical Park and that we helped in the effort of generating that economic impact through advertising the park and its activities."
The peer-reviewed visitor spending analysis was conducted by U.S. Geological Survey economists Catherine Cullinane Thomas and Christopher Huber and National Park Service economist Lynne Koontz.The report shows $15.7 billion of direct spending by 292.8 million park visitors in communities within 60 miles of a national park.This spending supported 277,000 jobs nationally;235,600 of those jobs are found in these gateway communities.The cumulative benefit to the U.S. Economy was $29.7 billion.
According to the 2014 report, most park visitor spending was for lodging (30.6 percent) followed by food and beverages (20.3 percent), gas and oil (11.9 percent), admissions and fess (10.2 percent) and souvenirs and other expenses (9.9 percent).
To download the report visit https://www.nature.nps.gov/socialscience/economics.cfm
The report includes information for visitor spending at individual parks and by state.
To learn more about national parks in Kentucky, Tennessee and Virginia and how the National Park Service works with the three states' communities to help preserve local history, conserve the environment, and provide outdoor recreation, go to www.nps.gov/STATENAME.