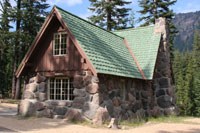 The Residential Facility
This historic house has been restored to serve as temporary quarters to support Center users. The shared facility has three bedrooms equipped with seven single beds. The upstairs rooms sleep three and a bedroom downstairs sleeps four in two sets of bunk beds. There is a unisex bathroom with a shower on each floor.
The bedrooms are shared and are designated for use by males or females, depending upon demand. There is limited personal storage space in each bedroom.
The residence also has a living room, dining room and kitchen facilities for your use. The kitchen is equipped with a range, oven, refrigerator, freezer, microwave oven, coffee maker as well as cooking and eating utensils dishes and glassware. A washer and dryer are also located in the house. The residence is a historic structure. To preserve its character please make no modifications or hang anything on the walls of the building.