Lost Creek Campground
Lost Creek Campground is CLOSED and will not be opening in 2020. Please visit our
Current Condtions page
to learn the current status of other park facilities. Some facilities are closed or have reduced hours right now due to COVID-19, and some services, procedures, and policies have changed. The rest of this page is not being updated to reflect current conditions. Visit our publications page to download a list of
lodging & camping options
outside the park.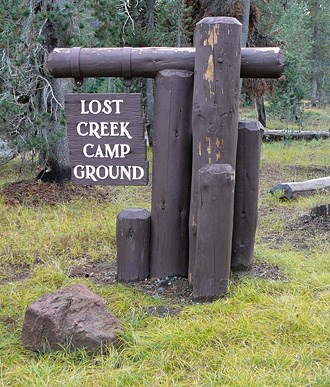 Lost Creek Campground is a small campground for tents located on the road to Pinnacles Overlook, three miles from the rim of Crater Lake. It usually opens in early July and closes in mid-October. Registration is self-service, and reservations are not possible. In July and August, the campground typically fills by mid-afternoon. Each site has a picnic table and a bear-resistant food locker. Lost Creek Campground is operated by the National Park Service.

Basic Information
| | |
| --- | --- |
| Elevation | 6,000 feet (1,829 meters) |
| Season | Usually open early July to mid-October * |
| Number of sites | 16 |
| Maximum RV length | No RVs allowed ** |
| Max. trailer length | No trailers allowed ** |
| Accessible sites | None |
| Restrooms | Portable toilets |
| Water | None; be sure to bring drinking water with you! |
| Food storage | Metal food locker |
| Dump station | None |
| Amenities | None |
| Pets | Allowed (read more about pet regulations here) |
| Phone | No cell reception; the nearest pay phone is at Mazama Campground |
| Ranger programs | No programs are offered at Lost Creek Campground, but campers are welcome to attend the nightly ranger program at Mazama Campground |
* In 2020, Lost Creek Campground will be closed on the following nights:
• August 7 (will reopen at 6 pm on August 8) because of the Crater Lake Rim Runs event
• September 11 (will reopen at 6 pm on September 12) because of the Ride the Rim event
• September 18 (will reopen at 6 pm on September 19) because of the Ride the Rim event
** The campground is closed to RVs, buses, and trailers. An RV is defined as any vehicle with its own toilet. Vans and truck campers (without restrooms) are allowed. A tent is not required; you may sleep in your vehicle.
Rates
Payment can be made by cash (exact change only) or a check made out to the National Park Service. Credit cards are not accepted. Senior Pass and Access Pass holders are entitled to a 50% discount on camping fees.
Additional Information
Hours
You can check in 24 hours a day. Check-out time is 12 pm. Generators are prohibited. Campground quiet hours are 10 pm to 7 am.

Maximum Occupancy
The maximum number of people per campsite is 8. The maximum number of vehicles per campsite is 2. Camping in the park is limited to 30 days per calendar year, with no more than 14 consecutive days in any campground.

Food Storage
The park is home to many animals, including black bears. When not in use, all of your food, garbage, cooking equipment, storage containers (e.g. ice chests), and toiletries (soaps, toothpaste, etc.) must be kept in your vehicle or in the bear-resistant locker provided at your campsite.

Water
No water is available. A faucet with drinking water can be found outside the Visitor Center at Park Headquarters, 11 miles away.

Fires
Wood campfires are not allowed. Gas stoves and self-contained charcoal grills are permitted.

Other Nearby Camping Options
For a list of campgrounds outside the park, download a Lodging & Camping brochure from our publications page. Camping is not allowed in the park's picnic areas, parking lots, and pullouts.

Camper Store, Laundry, Showers
The closest facilities are at Mazama Campground, 15 miles away. The Mazama Village Store sells groceries, camping supplies, and gasoline. See store hours. The store also has hot showers and laundry machines. They take quarters; a change machine is on site. Your quarters help maintain the park's wastewater treatment system and return clean water to the environment.
Last updated: July 28, 2020