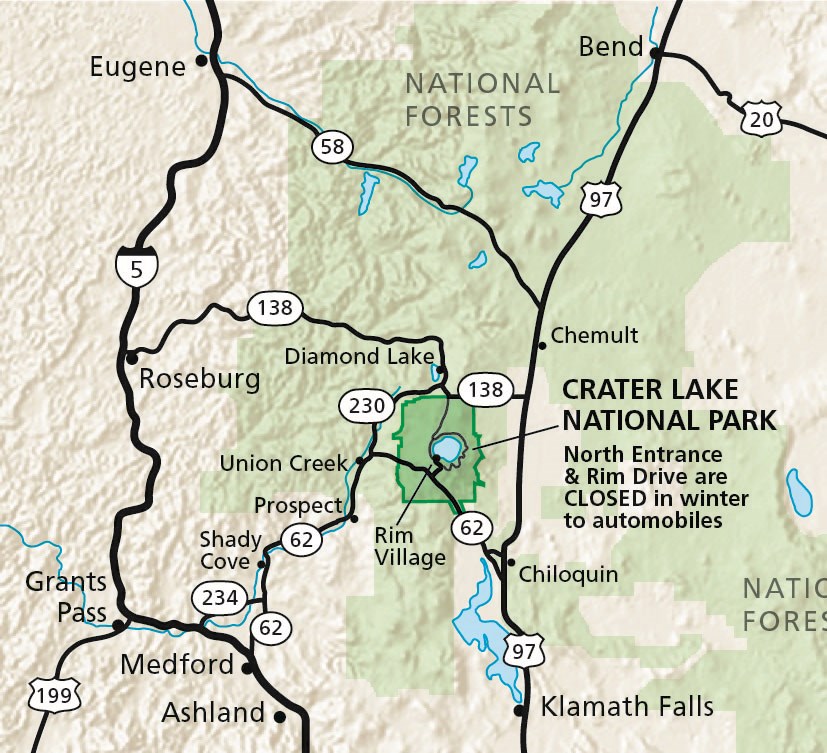 Arriving by Car
Things to Know
Cell reception in the park and surrounding areas is limited. Be sure to carry a map or GPS.
The park does not have a physical street address, so it can be hard to locate us using GPS. Try entering "Crater Lake" or "Rim Village" as a town or waypoint, or entering the coordinates for Park Headquarters, which is 3 miles south of Rim Village:
42° 53' 48.91" North
122° 08' 03.08" West
Be aware that the park's North Entrance is closed for about 7 months each year. It closes November 1 (or earlier, if there is significant snowfall). It opens sometime between mid-May and late June. Check the status on our current conditions page. The park's South Entrance and West Entrance are open year-round.
Unleaded gas is available seasonally at the Mazama Village Store. The rest of the year, the closest gas stations are in the towns of Prospect (33 miles west of Park Headquarters) and Chiloquin (34 miles south of Park Headquarters).
How to Get Here
From the west (Medford) - Follow Hwy 62 to the park's West Entrance. Open year-round.
From the south (Klamath Falls) - Take Hwy 97 to Hwy 62 and the park's South Entrance. Open year-round.
From the north (Eugene, Portland) - Leave Interstate 5 just south of Eugene. Take Hwy 58 to Hwy 97 to Hwy 138. Follow Hwy 138 to the park's North Entrance. If the North Entrance is closed, enter either through the West Entrance or South Entrance. (From the junction of Hwy 97 and Hwy 138, it will take the same amount of time, either way you go.)

From the northwest (Roseburg) - Take Hwy 138 East from Interstate 5 and follow to the park's North Entrance. If the North Entrance is closed, enter either through the West Entrance or South Entrance. (From the junction of Hwy 97 and Hwy 138, it will take the same amount of time, either way you go.)