The Old Man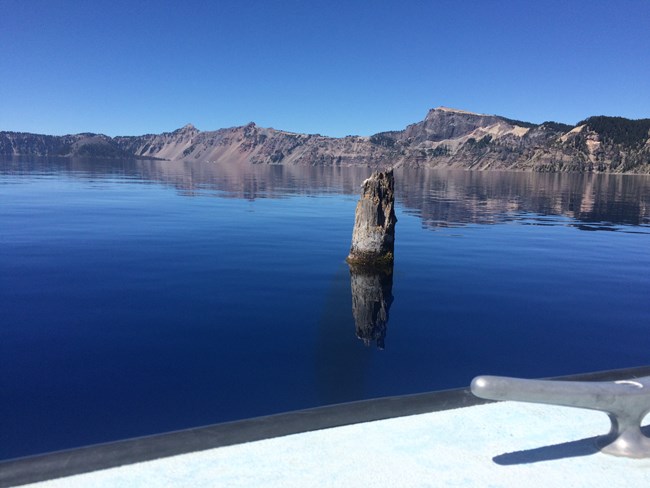 The Old Man is a 30-foot mountain hemlock log with three feet exposed above water. The old man's age is carbon dated beyond 450 years old. It was first sighted and tracked in 1896 by lake geologist, Joseph Diller.

The curiosity surrounding the Old Man continued to grow and, in 1938, Washington D.C commissioned a study of its travels. Between July and October, the Old Man traveled 62.1 miles, an average of .67 miles/day with his maximum daily distance of 3.8 miles achieved on August 6th.
The Lore
Some believe that the Old Man controls the weather at Crater Lake. In 1988 when the park brought in a submersible to explore the lake bottom, researchers concerned about running into Old Man, tied him up on the eastern shore of Wizard Island. Shortly thereafter storms blew in, making it impossible to launch the submersible at all. When this was quickly followed by snow in August, the scientists very quietly (and under cover of night) released the Old Man back into the Lake, thus restoring the weather and the Old Man's freedom.

Theories abound about its uprightness and travels. Though not proven, one belief is that because the lower part of the tree stump has been in the cold water for over a hundred years, its density has increased, making the Old Man buoyant and balanced. Others think it once held large rocks at its base which kept it from sinking. The Old Man of the lake is not only surrounded by water but also mystery, which keeps visitors in search of his whereabouts.
Last updated: June 17, 2022