Meadows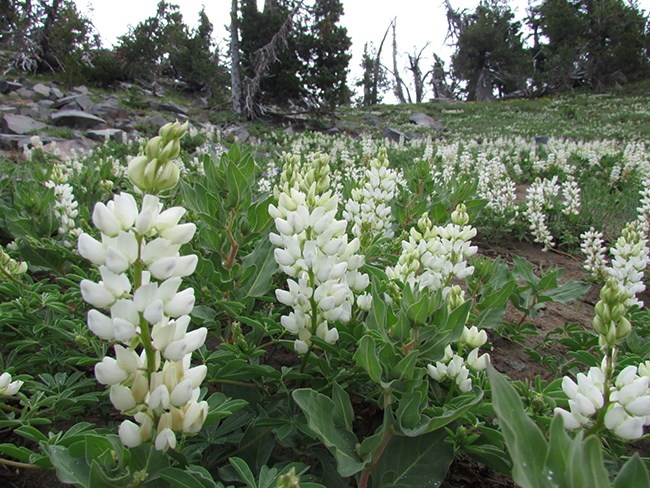 What is a meadow?

Most dictionary definitions of a meadow agree that it is an open tract of land dominated by grass. Meadows at Crater Lake National Park elevate that definition. They can be wet, dry, and somewhere in between with grasses, sedges, and wildflowers or any combination thereof. The most prominent meadow in the park is the
Pumice Desert
along the North Entrance Park Road.
Meadows and wetlands represent a small portion of the park's landscape but these open habitats are hotspots of plant and animal diversity. And needless to say, meadows contribute to the overwhelming beauty that makes Crater Lake National Park a treasured place.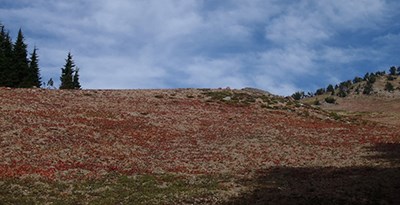 Dry Subalpine Meadows
Near the caldera rim, and along high peaks and cinder cones, dry subalpine meadows of pumice and ashy volcanic sand support grand vistas of Crater Lake and the nearby Cascadian peaks. Across these meadows grow diminutive plants that have adaptations similar to desert species. The plants resilient enough to survive here are often very short with thick, waxy leaves, and a dense covering of hairs to deflect intense sunlight.
Around the caldera rim, there is one meadow plant that signals the beginning and end of the short summer season at Crater Lake National Park. Fleeceflower (Aconogonon davisiae var. davisiae) emerges from the snow as bright green, but then turns a brilliant red as the days begin to shorten in the middle of summer. Eventually it dries a strawberry color and blows around the pumice meadows, collecting in low points and drainages.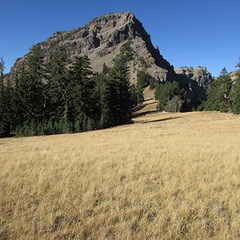 Grasses and Sedges
Drier grass and sedge-dominated meadows are found near Crater Peak, Sun Notch, and Rim Village. Sedges appear similar to grasses, but often have triangular stems while grasses have hollow, round stems. These expansive tree-less areas display an array of green and gold shades depending on the sun, rain, and the onset of snow.
Wildflowers such as Anderson's lupine (Lupinus andersonii)(topp photo), and Cascade aster (Eucephalus ledophyllus) add highlights of color. Grass- and sedge-dominated meadows provide forage and habitat for many wildlife species.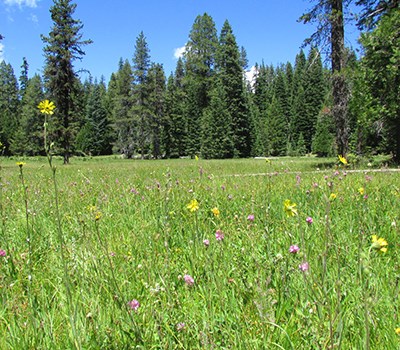 Wet Meadows
At lower elevations and near streams, lush wet meadows provide ideal habitats for many species of birds, mammals, amphibians, and invertebrates, many of which are not found in higher elevations and around the lake. Colorful wildflower displays line the banks of creeks, and surround open pools and springs. Abundant tracks indicate that elk and deer frequent these meadows.
The summer months are often warm and dry. Wet meadows and wetlands, while subject to seasonal drying, often serve as water sources for wildlife.These meadows are oases of diversity in a sea of coniferous forest.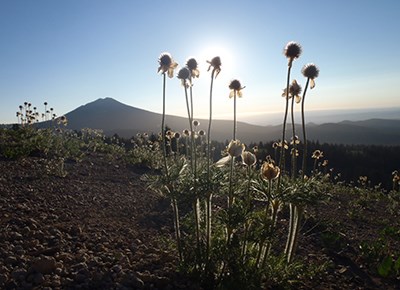 Diverse Yet Fragile
These diverse habitats are also very fragile. With short growing seasons, some require hundreds of years to develop enough nutrients to feed future generations of plants. Others need every advantage to grow and re-seed across the meadow in three or four months.
Protect Crater Lake's meadows by staying on designated trails and walkways. Avoid trampling the wildflowers, grasses, sedges, and other fragile meadow plants.
Meadows are beautiful to photograph. Click
here
for information on the Pumice Desert and to view more photos of meadows in the park.
Identifying and Listing
The vascular plant checklist available below is a good place to begin exploring and identifying the 700 native plant species known throughout the park. This NPS checklist utilizes the nationwide USDA Plants Database. Crater Lake botanists use Oregon Flora as their source for taxonomy, which includes species specific to the park and state.
Select a Park:
Select a Species Category (optional):
Search results will be displayed here.

Visit NPSpecies for more comprehensive information and advanced search capability. Have a suggestion or comment on this list? Let us know.
Last updated: May 9, 2022