History & Culture
A Summary of People
The interaction of people with this place is traceable at least as far back as the eruption of Mount Mazama. European contact is fairly recent, starting in 1853.
Native Americans
A Native American connection with this area has been traced back to before the cataclysmic eruption of Mount Mazama. Archaeologists have found sandals and other artifacts buried under layers of ash, dust, and pumice from this eruption approximately 7,700 years ago. To date, there is little evidence indicating that Mount Mazama was a permanent home to people. However, it was used as a temporary camping site.
Early settlers and explorers did not hear about Crater Lake from the native inhabitants because this place is sacred to most Native Americans of Oregon and northern California. Makalaks (now Klamath Indians) held the belief that this place was so holy that looking upon it would lead to death. There are no stories relating to the crystal blue lake that formed after the eruption, indicating that these people became silent on the issue of Mount Mazama, the mountain that was no longer.
Gold Prospectors
In the spring of 1853, a gold prospecting trip was financed by John Wesley Hillman, a 21 year old who had recently returned home from a successful trip to the California goldfields. On June 12, three members from this party came upon a large body of water sitting in a huge depression. Hillman exclaimed that it was the bluest water he had ever seen. Skeeters, one of the prospectors, suggested the name "Deep Blue Lake." Lack of provisions soon drove the miners down the mountains and back to Jacksonville where they reported the discovery of the lake. However, with no prospect of gold and fear of the unknown region to the northeast, there was no interest in confirming this discovery. It was soon forgotten.
In 1862, another party of Oregon prospectors explored this area of the Cascade Range, including Crater Lake. The leader, Chauncy Nye, later wrote a short article for the Jacksonville Oregon Sentinel. His article stated, "The waters were of a deeply blue color causing us to name it Blue Lake." This is the first published description of the lake.
William Steel
In 1870, a young man from Kansas named William Gladstone Steel unwrapped his lunch, carefully contained in a newspaper. As he ate, he read an article about an unusual lake in Oregon. The story sparked Steel's imagination and he vowed to see the lake for himself someday. In 1885 Steel finally gazed upon the beauty of Crater Lake. He was so moved that he decided that it should forever be a public park. His seventeen year quest to see Crater Lake established as a national park had begun.

Read more of these accounts in the park's History brochure.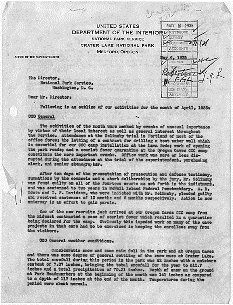 Crater Lake Museum & Archives
Crater Lake has long attracted the wonder and admiration of people all over the world. The interaction of people with this place is traceable at least as far back as the eruption of Mount Mazama. Founded May 22, 1902, Crater Lake National Park seeks to preserve its natural and cultural resources.
For more information on research and using the Crater Lake Museum & Archives collection, click here.


Last updated: February 3, 2023