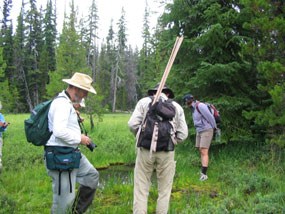 The Crater Lake National Park Science & Learning Center is sponsoring a survey and inventory of lichens on Saturday, August 23, 2008 from 9:30 am to 4:30 pm. The event is an opportunity for "citizen scientists" from the general public to join with Park staff and other biologists to collect and identify lichens within the Park boundaries. This is the second BioBlitz organized by the Science & Learning Center - the first was a plant survey of the Sphagnum Bog in the western part of the Park during 2007. This is the first biological survey open to participation by the general public.
Participants will be assigned to one of five teams, accompanied by a leader who will provide guidance in recognizing and collecting samples. Each team will conduct a survey of a particular site in the park, such as the Annie Creek Trail, Pacific Crest Trail, or Castle Crest Wildflower Trail.
Lichens are fungi and algae that live together. Familiar forms include incrustations on rocks and the "old-man's beard" that grows on trees. The lichen samples will be used to extend knowledge of the Park's biology and provide the basis for further studies by specialists. Participants will have an opportunity to learn more about lichens, to observe them with microscopes, and to enjoy hiking in diverse areas of the Park. Some samples will be added to the permanent collections at Crater Lake National Park.
Participants must be adults (over 18) or children over 12 accompanied by their parent or legal guardian. Registrants can select terrain preferences based on different physical abilities, but some hiking off trail is expected at all sites. Complete instructions on what to bring will be provided during pre-registration. All participants must pre-register by Wednesday, August 20. To obtain registration forms, contact Education Coordinator, Linda Hilligoss at (541)594-3149.
For inquiries, contact either Research Coordinator, Larry Powers at (541)885-1183, or Education Coordinator, Linda Hilligoss.
Check back here for event updates!