Outdoor Activities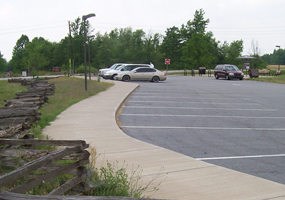 Trailhead Parking: At the corner of SC Highway 11 and Hayes Road, the parking lot is the trailhead for the Overmountain Victory National Historic Trail and provides additional pedestrian and bicycle access to Cowpens National Battlefield loop road and battlefield trail and is open until dusk. GPS Coordinates for trailhead parking lot: 35° 7.864' / -81° 47.824'
Battlefield Trail: The partially paved 1.3 mile trail includes wayside exhibits, the 1856 Washington Light Infantry Monument and the historic Green River Road which was the centerline of the battle. (45 minutes) Videos of Ed Bearss' guided battefield walk
Auto Loop Road: The 3.8 mile 1 way road travels the perimeter of the battlefield and includes wayside exhibits, parking areas with short trails to the Green River Road, the c. 1828 Robert Scruggs Log House, and access to the picnic area. Audio narration by Ed Bearss
Picnic Area: Located 1 1/2 miles around the loop road, the area provides picnic tables, grills, and restroom facilities. A covered picnic shelter is available to groups through a special use permit for a small fee. Contact the staff at the Visitor Center for information on the permit or visit the Picnic Shelter Information page.
STAFF RIDE INFORMATION
A military staff ride is a group exercise of three distinct phases: preliminary study, field study, and integration. It is designed for further the development of officers, in which each participant gives a briefing on plans, orders, events, decisions, and individuals. They frequently take on the persona of one of the primary participants in the battle. Afterwards, his/her colleagues question him/her about that participant's view of what has occurred on the battlefield at that point.
By definition, the staff ride is to be conducted by the military participants and not by park staff. The following links give in depth information on the proper conduct of a staff ride and will help you prepare.


Last updated: April 15, 2023