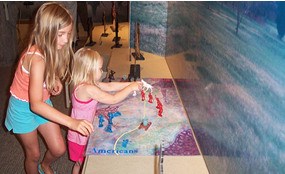 Visitor Center
The museum contains Revolutionary War artifacts, a reproduction 3-pounder cannon, interpretive exhibits, and hands-on exhibits for children.
"Cowpens: A Battle Remembered" is a laser disk presentation shown hourly in the museum. The 18-minute show was filmed during the 225th anniversary of the battle and depicts the events of the battle. - Free
Fiber-optic Map Display illustrates the Southern Campaign of the American Revolution and the battle tactics employed by Daniel Morgan at Cowpens. (13 minutes) - Free
Sales Outlet operated by Eastern National offers books, posters, postcards, slides, and theme-related souvenirs for purchase.