Celebration of Freedom!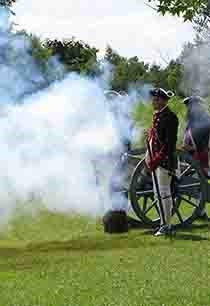 Celebration of Freedom Activities at Cowpens National Battlefield
GAFFNEY, SC – Cowpens National Battlefield invites you to celebrate our nation's independence with a day of family programs on Saturday, July 6. This year the park will not be able have the evening fireworks program, but will have a full schedule of family activities. Superintendent John Slaughter states, "I completely understand the disappointment of not providing a fireworks display; however staff and volunteers are dedicated to promoting the greatest visitor experience possible for visitors during this year's 'Celebration of Freedom'. The park is extremely encouraged by the offers from the public to donate funding towards the fireworks. As the park develops a new friends group association, philanthropic opportunities will increase to develop and expand programs at the park including and beyond donating toward the purchase of fireworks."
The event features guided battlefield walks, Revolutionary War musket and cannon firing demonstrations, children's programs, and music by the Spartanburg Community Band. The Visitor Center and park will be open from 9:00 a.m. to 5:00 p.m.
Guided battlefield walks will be at 10:15, 11:15, 12:15, 1:15, 2:15, and 3:15 pm. There will also be 18th century musket, rifle, and cannon firing demonstrations at 10:30, 11:30, 12:30, 1:30, and 2:30. Talks about the historic Green River Road will be at 10:45, 11:45, 12:45 and 1:45 pm. The Chesnee Branch of the Spartanburg County Library will have reading and games for children from 1:30 – 2:45, and then park staff will have children's activities from 3:00 – 4:30. The Spartanburg Community Band will give a patriotic concert from 3:00 – 4:30 pm. In consideration of other visitors, the park requests that visitors who bring their own shade canopies, place them behind visitors who do not have them.
Cowpens National Battlefield, a unit of the National Park Service, is located at 4001 Chesnee Highway, Gaffney, SC 29341. It commemorates a decisive American victory over regular British forces. The battle helped turn the tide of war in the Southern Campaign of the American Revolution. The park is open daily from 9:00-5:00 except for Thanksgiving, Christmas, and New Year's Days. For more information, call (864) 461-2828 or visit us on the Web at www.nps.gov/cowp/.
About the National Park Service. More than 20,000 National Park Service employees care for America's 401 national parks and work with communities across the nation to help preserve local history and create close-to-home recreational opportunities. Learn more at www.nps.gov.
Last updated: April 14, 2015