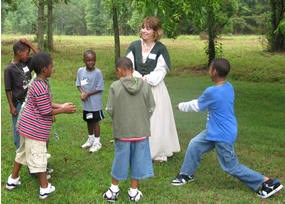 "What I Did on My Summer Vacation": How the American Recovery and Reinvestment Act Affected Area Youth
For eight weeks this summer, three federal acts merged to change the lives of teenagers working at Cowpens National Battlefield. When HR 10086 expanded Cowpens National Battlefield Site from one acre to 842 acres in 1972, more than 50 families and businessmen vacated their homes and stores over the next seven years. The government moved or demolished the structures, leaving behind many tons of debris. Public Law 93-408 created the Youth Conservation Corps in 1974 to give 15 to 18-year-old youth the opportunity to work, learn, and earn together. The American Recovery and Reinvestment Act, passed by Congress in 2009, allowed the park's management to double the planned 6-member YCC to 12.
Cowpens National Battlefield applied for and received ARRA money for debris removal, which has constituted a major portion of the teenagers' work experience this summer. So far, they have removed over 53 tons of metal and masonry. In order to provide a little variety in their tasks and to keep the park looking its best, the two teams of six each also performed such projects as weed-eating, landscaping, and picking up litter. The youth also planned a "Kids' Day" at the park, during which they led 62 children from Mary H. Wright Elementary School and the Boys and Girls Club from Mount Moriah Baptist Church in playing 18th century games and learning about history.
Part of the requirements of the Youth Conservation Corps is that they receive at least 40 hours of environmental awareness instruction during the 8-week program. In addition to having speakers teach them about native and non-native species, kudzu removal, and battlefield restoration, on alternate Fridays, the two YCC teams went on field trips to Ninety Six National Historic Site, Kings Mountain National Military Park, Congaree National Park, and SPACE (Spartanburg Area Conservancy). At Ninety Six, Kings Mountain, and Congaree, they learned about the natural and cultural history of those parks, and at Ninety Six and SPACE, they helped staff remove small trees, vines, and privet to protect and preserve those areas.
So what happened when the past laws met the present law at Cowpens National Battlefield this summer? They created the future. Ashley Hall, a rising senior at Gaffney High School, said, "My summer vacation has been no less than a turning point in my life… a bridge leading to a bright and promising new future. The YCC has been an experience that gave me a clarity I did not have before, concerning who I was as a person… I found a passion for the wildlife that encouraged me to change my major in college." Ashley says that she would like to pursue a major in wildlife biology when she goes to college and to work in a park someday.
Cowpens National Battlefield has extended the YCC experience for two weeks for the teenagers who wanted to prolong their time working together on debris removal and battlefield restoration. The park staff invites you to stop by to see your tax dollars at work.
Cowpens National Battlefield protects and preserves the historic Revolutionary War Battlefield where American General Daniel Morgan defeated the British forces led by Lieutenant Colonel Banastre Tarleton on January 17, 1781. The park is located 3 miles east of Chesnee, SC and 10 miles west of Gaffney, SC on SC Highway 11. Visitor Center hours are 9:00 a.m. – 5:00 p.m. daily, closed on Thanksgiving, Christmas, and New Years Days. For more information, call (864) 461-2828 or visit the park's web page at www.nps.gov/cowp/.
-NPS-