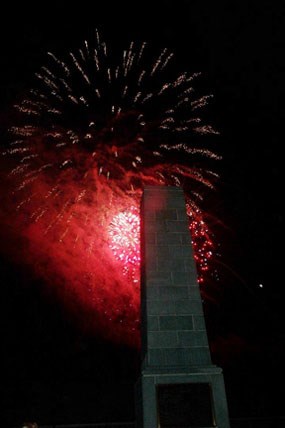 History, Fireworks, and Family Fun at Cowpens National Battlefield on Saturday, July 2, 2011
Cowpens National Battlefield will celebrate our nation's independence with opportunities to learn about Revolutionary War history, patriotic music and fireworks on Saturday, July 2, 2011. This free event will begin at 10:30 a.m. with a guided battlefield walk and end with a 650-shell professional firework display at 9:00 p.m.
Local reenactors will set up a soldiers' camp and will give weapons firing demonstrations on the half hour from 12:30 p.m. - 5:30 p.m. Afternoon battlefield walks will begin on the hour at the Visitor Center from noon - 4:00 p.m., and a talk will be offered at the 1932 US Monument in front of the Visitor Center at 6:30 p.m. The Visitor Center will be open 9:00 a.m. - 9:00 p.m.
On the lawn behind the Visitor Center, the Spartanburg Community Band will play patriotic music from 7:00 p.m. - 9:00 p.m., leading up to the fireworks. The Chesnee branch of the Spartanburg County Library will have story time and games from 5:00 p.m. - 6:00 p.m. The park will offer children's activities from 7:00 p.m. until 9:00 p.m. Activities include playing Colonial-era children's games, writing with a quill pen, and making whirligigs.
Bring a picnic and enjoy the afternoon with your family and friends. Please note that there will NOT be food available in the park and alcohol is not allowed at this family event. Restaurants and fast food are located in both Chesnee and Gaffney. While supplies last, water and soft drinks will be available for purchase at the Visitor Center. Park regulations prohibit personal fireworks, sparklers, chem-lights, etc. For our visitors' safety, the battlefield area will be closed between 5:30 p.m. - 9:45 p.m. to stage and shoot the fireworks.
In the event of inclement weather, only the fireworks display will be rescheduled for Sunday, July 3, 2011.
Cowpens National Battlefield is the site of the American victory over the British on January 17, 1781 and is located 10 miles west of Gaffney, SC, and 3 miles east of Chesnee, SC at the intersection of Highways 11, 110, and 221-A. For more information, call (864) 461-2828 or visit the park's webpage at www.nps.gov/cowp/.
-NPS-